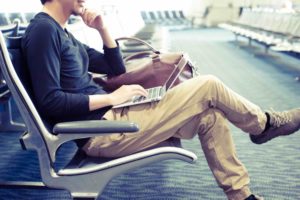 Airlines Told to 'Be Prepared' for Expanded Electronics Ban
U.S. officials have told airlines to "be prepared" for an expanded ban on carry-on electronic devices allowed on airplanes. On Tuesday, Homeland Security spokesman David Lapan confirmed to reporters that the administration is considering expanding the ban on laptops, which currently applies to U.S.-bound flights from eight countries in the Middle East and North Africa.
An expanded ban on devices larger than cell phones could potentially include other regions, including flights from Western Europe. Lapan told reporters that DHS Secretary John Kelly has alluded to the ban "likely" being expanded. DHS officials, however, are still deciding where and how the new restrictions will be implemented.
The primary concern is passengers bringing laptops into the airplane cabin – a concern that is high on the law enforcement radar screen ever since an attack on a Somali airliner where an explosive device built into a laptop detonated in flight and injured two people.
In March, officials implemented the initial ban of certain electronic devices on flights to the U.S. from 13 international airports due to reports of increased terror threats that suggested Al Qaeda and other groups were still looking to smuggle explosive materials onboard airplanes. The ban also renewed post 9/11 regulations on liquids on airplanes.
When DHS implemented the initial ban, it said that there was "reason to be concerned" about attempts by terrorist groups to "circumvent aviation security," and said that terrorist groups continue to "target aviation interests." The DHS website states, "Implementing additional security measures enhances our ability to mitigate further attempts against the overseas aviation industry."
The initial ban focused on airports based on the "current threat picture" and according to DHS included Jordan's Queen Alia International Airport, Cairo International Airport, Ataturk International Airport, Saudi Arabia's Kin Abdul-Aziz International Airport, Saudi Arabia's King Khalid International Airport, Kuwait International Airport, Morocco's Mohammad V Airport, Qatar's Hamad International Airport, Dubai International Airport and Abu Shabi International Airport.
Berardi Immigration Law will continue to closely monitor this topic and will be sure to inform our clients of any updated news or information. If you are interested in immigrating to the United States, please contact our office to schedule a consultation with one of our attorneys today!