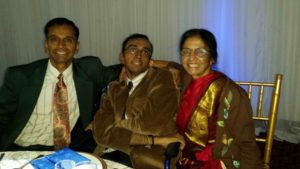 The Balasubramian Family: A Long Immigration Journey with a Happy Ending
The Balasubramanian family first came to Berardi Immigration Law for assistance with their immigration needs in August of 2012. They had a unique and complex matter that required a careful and thorough analysis by a U.S. immigration attorney.
The Balasubramanian family lived in the United States in lawful, valid nonimmigrant status through 2008. The mother and father, Vatsala and Thyagarajan, were both green card holders (lawful permanent residents). At that time, their youngest son, Krishnan, was attending college when he suddenly fell ill. Unsure of why, Krishnan and his parents returned to Canada where Krishnan was covered by health insurance for further testing.
The Balasubramanians would soon come to learn that Krishnan was diagnosed with Wilson's disease, a rare and particularly devastating neurological disorder that occurs in only one of every 30,000 people. Within nine months, the disease left him completely unable to speak or swallow. He soon became completely wheelchair bound with substantial impairment to his body movement and he required a feeding tube. For the next four years, Vatsala and Thyagarajan were Krishnan's primary caretakers and all three remained in Canada, while their oldest son, Raja, remained in the United States with his green card.
Disaster struck again in June of 2012, when Thyagarajan became suddenly very ill and passed away on July 1 of that same year. This left Vatsala alone to care for Krishnan, which required assisting him with all activities of daily living, including washing, dressing, toileting, caring for his feeding tube, administering his numerous medications, and scheduling and attending all doctors' appointments and therapy sessions. At 69 years old, it became increasingly difficult for Vatsala to alone care for her adult son, Krishnan. With her oldest son, Raja, now a green card holder living permanently in the United States, Vatsala reached out to our firm to get the process started so that she and Krishnan could reunite with Raja in the U.S.
A lawful permanent resident (LPR) who remains outside the U.S. for longer than one year or beyond the validity period of a re-entry permit requires a new immigrant visa to enter the U.S. and resume permanent residence. This visa is known as a SB-1, Returning Resident, Special Immigrant Visa. Under §101(a)(27)(A) of the Immigration and National Act, an applicant whose absences from the United States are found to have disrupted continuous residence may still be considered an LPR when the absence is due to circumstances beyond his/her control.  The intention to maintain permanent resident status is not considered the controlling issue; instead it is whether the LPR is able to demonstrate with evidence a continuous, uninterrupted intention to return to the U.S.  Whether an LPR has maintained this intent to return is determined on a case-by-case basis.
While living in Canada as an LPR, Vatsala did not have a re-entry permit – this was the last thing on her mind after handling her son's diagnosis and her husband's death. However, it was clear from Vatsala's extenuating circumstances that she would be considered well-qualified for the SB-1 Visa. Demonstrating these circumstances, Attorney Jennifer Behm of our firm prepared a detailed petition explaining Vatsala's recent hardships and reason for remaining outside of the U.S. Our firm scheduled her SB-1 visa interview in Toronto which she attended. The petition was then forwarded to the U.S. Embassy in Montreal for further review, where after a long wait time, it was finally approved. In October of 2014, Vatsala crossed the border to "activate" her new green card. To preserve Vatsala's new green card status while she wrapped up their affairs in Canada, our office filed a Re-Entry Permit on her behalf. With Vatsala's immigration status in order, it was then time to work on Krishnan's immigration status.
Before Krishnan became ill, he was the beneficiary of an approved Form I-130, Petition for Alien Relative. However, after becoming sick and returning to Canada, Krishnan was never able to complete the Immigrant Visa Processing portion of the application. Our firm then worked diligently to re-open his immigrant visa case with the National Visa Center. After obtaining all of the necessary documentation (birth certificates, medical records, police certificates, etc.), our office filed a G-28 and all of his related documentation with the National Visa Center in April of 2015. After well over a year of continued and consistent follow-ups with the National Visa Center, Krishnan was finally scheduled for his Immigrant Visa Interview in Montreal in August of 2016.
Prior to his interview, our firm gathered all required original documents and copies and provided them to Vatsala and Raja, who would both be accompanying Krishnan to his interview. Krishnan attended his required medical exam with no problems and obtained all of his related medical and vaccination records. After the long six-hour drive from Toronto to Montreal to attend the interview, the Balasubramanians were happy to report that Krishnan's immigrant visa was approved! In January of this year, Krishnan made his first entry back into the U.S. after more than nine years to activate his green card.
After a very long five-year immigration journey, Krishnan and Vatsala are both now preparing for their big move to the United States as Lawful Permanent Residents. They will live with Raja and his family in the Empire State of New York. 
We were thrilled that our firm was able to help Vatsala and Krishnan finally make their dreams of returning home to the U.S. a reality. Our firm understands the critical importance of family and we know what it takes to obtain a successful outcome.
If you have questions on how you can make your American dream a reality, please contact our office to set up a consultation with one of our knowledgeable attorneys today!