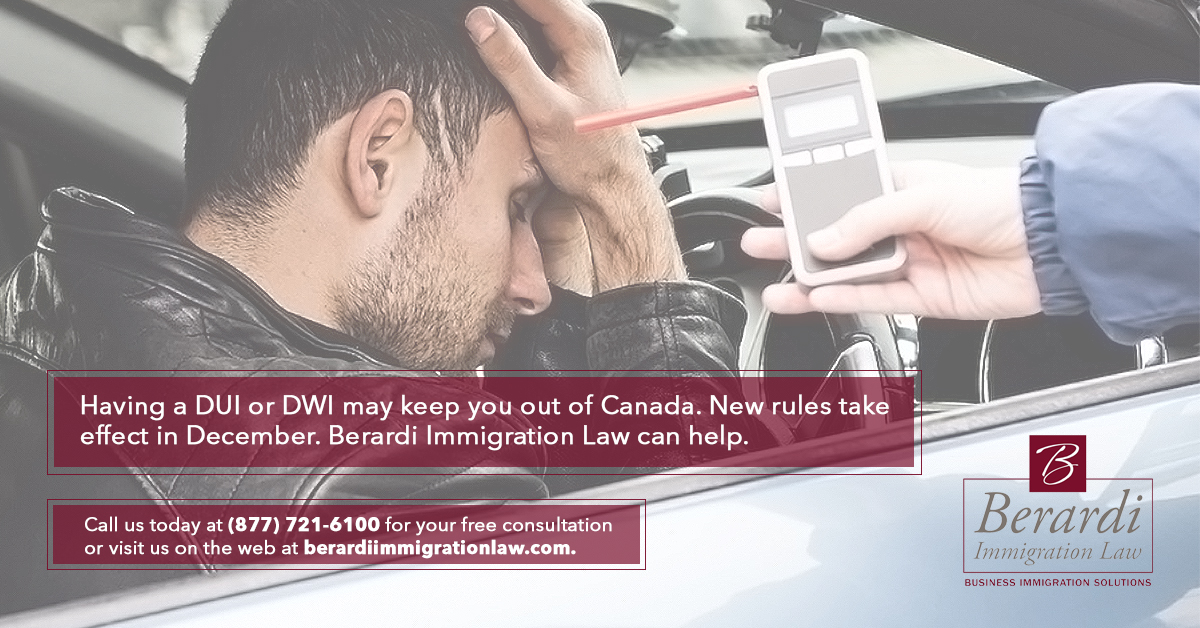 Berardi Immigration Law assisting individuals with DUI and DWI convictions with travel to Canada
If you've been convicted of a DUI or DWI, chances are your life has been altered in many ways. However, you may not be aware that having an alcohol-related driving conviction on your record can significantly impact your ability to enter Canada. In fact, in most cases, this type of conviction will make you "criminally inadmissible" in the eyes of the Canadian government, barring you from entry to Canada for a period of 10 years!
Beginning December 18, 2018, Canada will introduce much tougher penalties for individuals with convictions of DWI, DUI, or DWAI. The new bill, titled the Impaired Driving Act, will make impaired driving a serious criminal offense in Canada, whereas it is presently considered a criminal offense. This change means that any individual with a DWI, DUI, or DWAI may need an entry permit in order to enter Canada. This is a huge change from the present law, which states that an individual with a sole DWI, DUI, or DWAI would only be criminally inadmissible to Canada for the first five years, could apply for individual rehabilitation after five years, and is deemed fully rehabilitated after 10 years.
If you have a DUI or DWI on your record that's currently preventing you from entering Canada, we have good news. You don't have to avoid traveling across the border before your 10-year restriction period is over. Whether you have friends and family whom you'd like to visit, need to attend a business meeting or simply want to enjoy a vacation across the border, there are DUI and DWI permit options that can help you enter Canada to fulfill personal or professional obligations. That's where we can help.
Berardi Immigration Law identifies and implements the best legal solutions to help you overcome the challenges associated with crossing the border with an alcohol-related driving conviction on your record. From temporary remedies to permanent solutions, our Canadian attorneys are well versed on the requirements, process and fees for all types of entry permits. With meticulous planning, we'll develop a strategy that will allow you to once again enjoy a short visit or even an extended stay in Canada!
What you need to know is that filing these types of permits can take time. The sooner you begin this process with our team, the sooner we can get you on your way to your next Canadian adventure.
Ready to experience the Berardi advantage? Contact us today for a free consultation at (716) 877-721-6100 or click here.