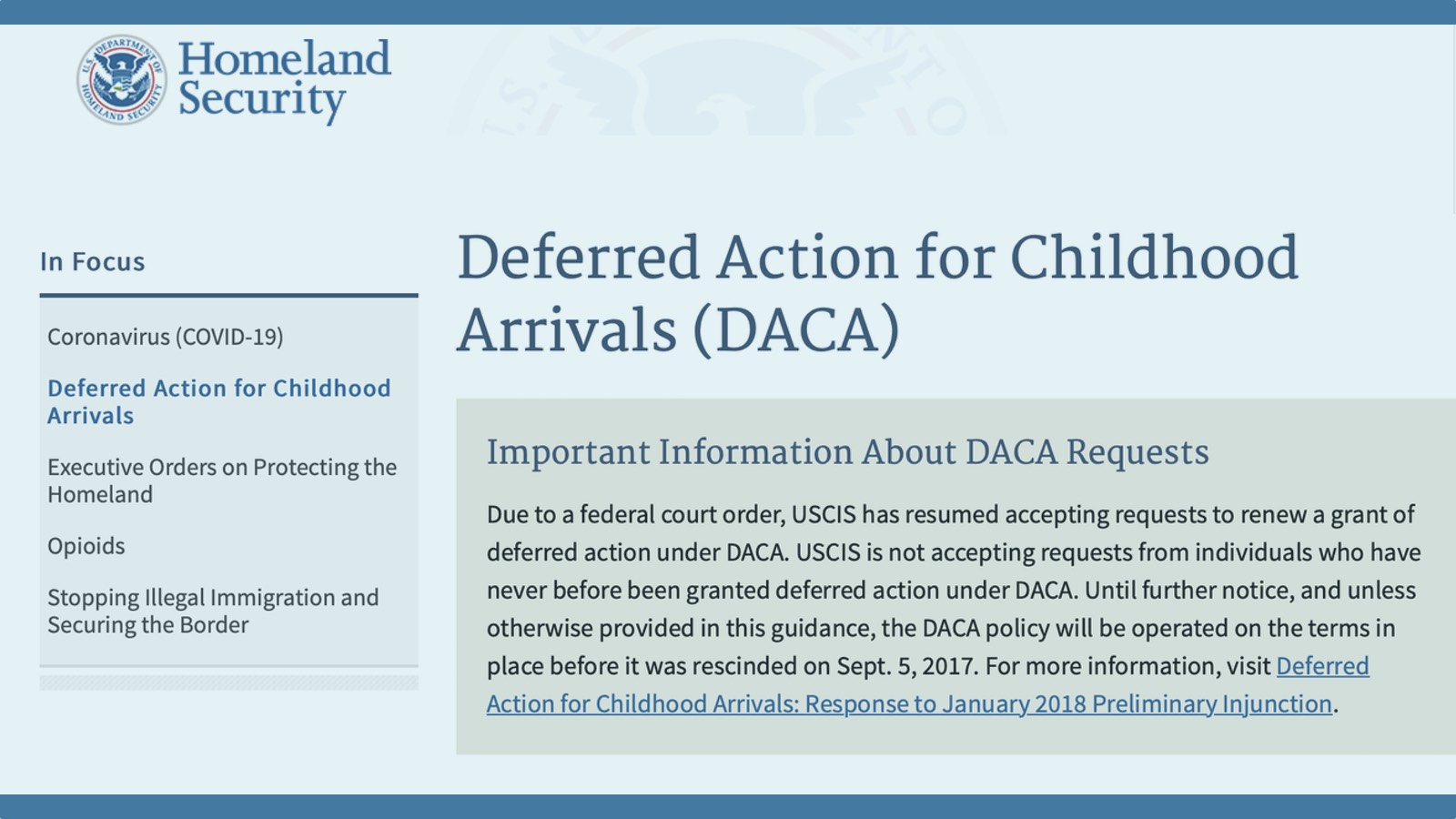 DHS Announces Changes to the Deferred Action for Childhood Arrivals (DACA) Policy
On July 28, 2020, the Department of Homeland Security announced changes to the DACA policy while it fully reconsiders the policy. The changes and reconsideration of DACA follow the Supreme Court's June 18, 2020 decision, which invalidated 2017 and 2018 memoranda that fully rescinded the DACA policy.
Changes to the DACA Policy
In the July 28, 2020 memorandum, Acting Secretary of Homeland Security, Chad Wolfe, formally rescinded the 2017 and 2018 memoranda invalidated by the Supreme Court, and made several changes to the DACA policy. Under these changes, effective immediately, DHS must:
Reject all pending and future initial DACA requests (without prejudice to re-filing if new requests are accepted in the future) and refund associated fees;
Reject all pending and future Advance Parole applications from DACA beneficiaries (unless exceptional circumstances exist);
Shorten DACA renewals, and accompanying employment authorizations, to one-year instead of the traditional two-year period;
Continue to adjudicate all pending & future properly submitted renewal requests from current DACA beneficiaries;
Refrain from terminating any previously issued deferred action, employment authorization, or Advanced Parole based on this memorandum;
Exercise discretionary authority to terminate or deny deferred action if appropriate; and
Continue to comply with the information-sharing policy outlined in the DACA FAQ.
Why Were Changes Made?
Wolfe asserted that the changes were made to try to mitigate enforcement policy concerns while he reconsiders a full recission of the DACA policy. The memorandum details Wolfe's four enforcement policy concerns that may warrant fully rescinding the DACA policy:
Congress has had sufficient time to afford permanent status or immigration relief to DACA aliens, but they haven't done so. DACA lacks the permanence of statutory law, and rescinding it may compel Congress to address the issue.
Setting out detailed criteria for implementing the DACA policy may inhibit individualized consideration of each case.
DHS upholding the DACA policy sends mixed messages about its intention to consistently enforce immigration laws as written by Congress.
DACA concerns are pressing because they involve children; rescinding DACA could discourage illegal immigration involving children in the future, while not doing so could encourage it.
The Department of Homeland Security has said that the changes are temporary, and a final decision on the DACA policy will be made after a full review of the policy is conducted.
If you have any questions about how the changes to the DACA policy affect your immigration status, please contact Berardi Immigration Law to speak with one of our knowledgeable attorneys!