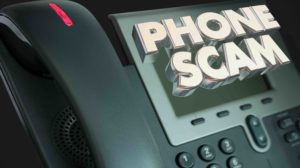 DHS Issues Warning on Recent Telephone Scams
The U.S. Department of Homeland Security (DHS) recently issued a fraud alert notifying the public about a scam using the DHS Office of Inspector General (OIG) hotline telephone number. In the calls, scammers have identified themselves as U.S. immigration employees and have altered their caller ID to seem like the call is coming from the DHS OIG hotline number, which is 1-800-323-8603. The scammers then demand that the individual provide or verify personally identifiable information, often by telling individuals that they are victims of identity theft. Many of the scammers reportedly have pronounced accents.
If you receive a call from a scammer at this number hang up the phone immediately. DHS OIG reminds the public that this hotline number is never used to make outgoing calls – the phone line is only used to receive information from the public. It continues to be perfectly safe to call the DHS OIG hotline to report fraud, abuse, waste or mismanagement with DHS components or programs.
USCIS also reminds the public that USCIS officials will never threaten you or ask for payment over the phone or in email. If USCIS requires payment, it will mail a letter on official stationary requesting payment. Do not give payment information over the phone to anyone who claims to be a USCIS official. In general, USCIS encourages you to protect your personal information and not to provide details about your immigration application in any public area.
Anyone who believes they may have been a victim of this telephone spoofing scam is urged to call the DHS OIG hotline or to file a complaint online via the DHS OIG website at www.oig.dhs.gov. You may also contact the Federal Trade Commission to file a complaint or report identity theft.
If you have questions on immigrating to the United States, please contact our office to schedule a consultation with one of our attorneys today!