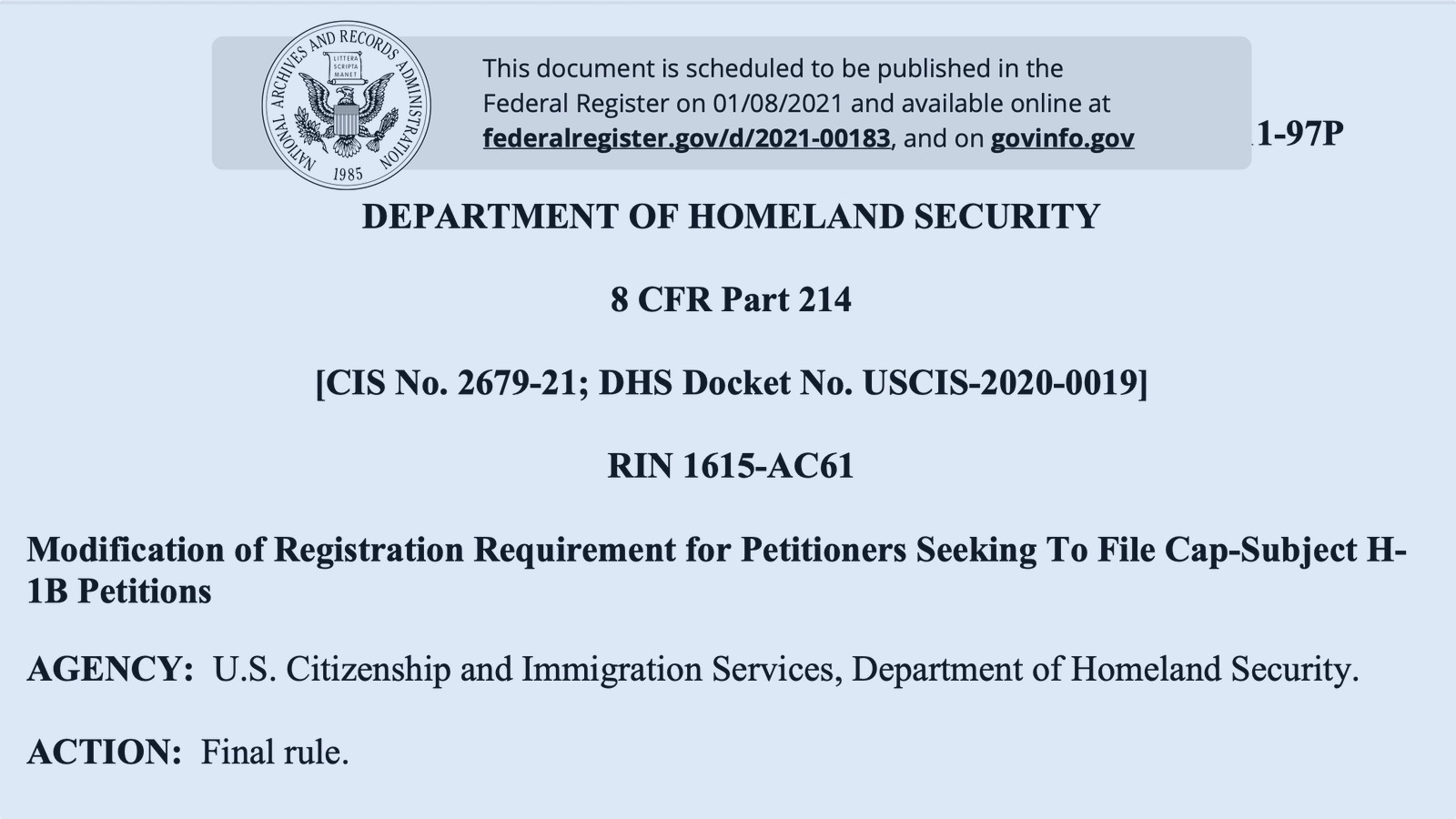 DHS will Publish Final Rule Modifying the H-1B Cap Selection Process
The Department of Homeland Security (DHS) will publish a final rule, Modification of Registration Requirement for Petitioners Seeking to File Cap-Subject H1B Petitions, on January 8, 2021, amending its regulations governing the process by which U.S. Citizenship and Immigration Services (USCIS) selects H-1B registrations for the filing of H-1B cap-subject petitions. Specifically, this rule will direct USCIS to rank and select registrations (or petitions, if the registration process is suspended) based on the highest Occupational Employment Statistics (OES) prevailing wage level that the employee's intended wage falls under for the relevant Standard Occupational Classification (SOC) code and area of intended employment. Meaning, USCIS will be required to select individuals that fall within OES wage level IV, the highest of the four wage levels, first and then proceed to choose in descending order from those who fall under OES wage levels III, II, and I.
The purpose of this rule is to protect the economic interests of U.S. workers while still allowing U.S. employers to remain globally competitive. According to DHS, prioritizing registrations based on wage level within each cap "will incentivize H-1B employers to offer higher wages, or to petition for positions requiring higher skills and higher-skilled aliens" so that H-1B cap allocations will be "more likely will go to the best and brightest workers." It is meant to "disincentivize abuse of the H-1B program to fill relatively lower-paid, lower-skilled positions."
The new selection process will be implemented for both the H-1B regular cap and the H-1B advanced degree exemption but will not affect the order of selection as between the two. It will also only apply to H-1B registrations (or petitions, if the registration process is suspended) submitted by prospective petitioners seeking to file H-1B cap subject petitions.
DHS's new rule will surely have a large impact on the H-1B selection process, making it more difficult for employers to employ foreign workers in certain positions. Critics of the rule anticipate that many important, lower paying jobs will go unfilled under this new process, leaving many employer's needs unmet.
The final rule will be effective 60 days after its publication in the Federal Register on January 8, 2021. Prior to publication, interested persons may download the unpublished PDF version here.
Berardi Immigration Law is committed to providing our clients with the most up to date immigration news. Be sure to subscribe to our blog and follow our social media accounts for more important updates!