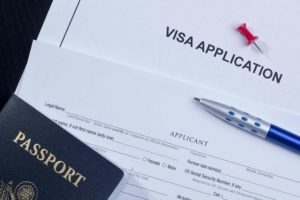 DOS Issues Public Notice Concerning Supplemental Questions for Visa Applicants
In March, President Trump directed the Secretary of State, the Attorney General and the Secretary of Homeland Security to implement additional protocols and procedures focused on revamping the visa application process. The Department of State has responded, and a public notice was just released detailing a list of supplemental questions for visa applicants who have been determined to warrant increased scrutiny.
If implemented, this is how it will work. When an individual applies for a visa at a U.S. consulate abroad, his or her application will be reviewed by a consular officer. If the officer determines that the circumstances of a visa applicant, a review of a visa application, or responses in a visa interview indicate a need for further scrutiny, the applicant will be asked to provide the officer with additional information. The individual will be asked to provide the following:
• Travel history during the last 15 years, including the source of funding for travel;
• Address history during the last 15 years;
• Employment history during the last 15 years;
• All passport numbers and country of issuance held by the applicant;
• Names and dates of birth for all siblings;
• Names and dates of birth for all children;
• Names and dates of birth for all current and former spouses, or civil or domestic partners;
• Social media platforms and identifiers used during the last five years; and
• Phone numbers and email addresses used during the last five years.
Most of this information is already included on a visa application, but it is for a shorter period of time. Requests for the names and dates of birth of siblings and children, and requests for social media identifiers, are new. The purpose of these supplemental questions is to enhance the consular officer's ability to spot and deny visas to individuals who pose a threat to U.S. national security. The consular officer will be able to immediately apply a more rigorous evaluation of an individual applicant and identify potential visa ineligibilities.
So who will be affected and how taxing will these changes be on the visa application process and the individuals involved? The Department of State has estimated that these new vetting protocols will affect about 0.5 percent of U.S. visa applicants worldwide resulting in nearly 65,000 hours of additional questioning annually. This means that somewhere around 65,000 individuals per year will present a threat to the nation's security, which will warrant enhanced screening protocols by consular posts abroad.
It is important to note one thing. The purpose of the public notice is to allow for public comment from all interested individuals and organizations. This information is being released to help the DOS evaluate and determine whether the proposed screening procedures are necessary; whether the time and cost burden is accurate; and to help enhance the quality, utility and clarity of the information to be collected from affected individuals.
If you are interested in applying for a U.S. visa, please contact our office to schedule a consultation with one of our attorneys today!