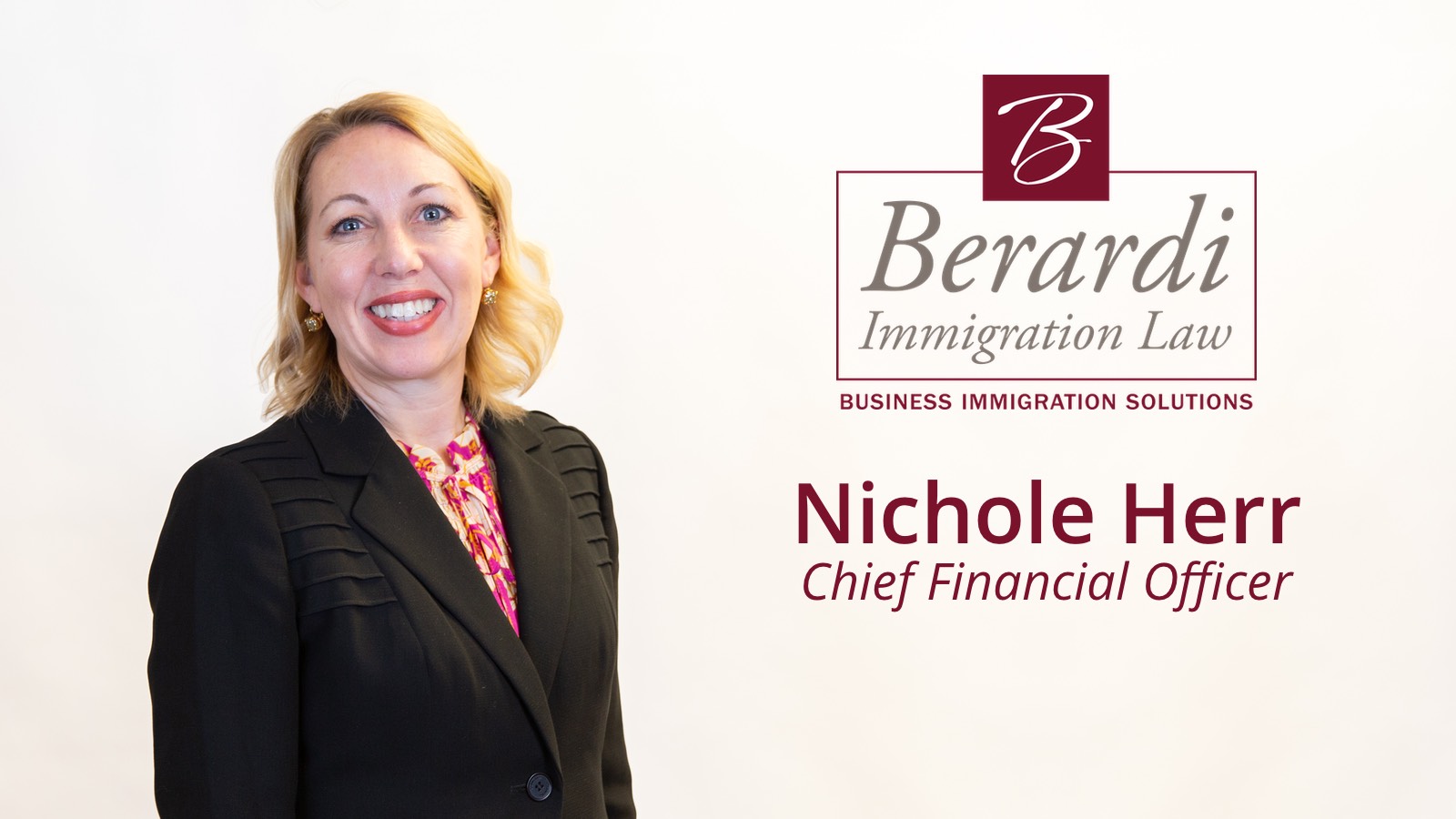 Employee Spotlight: Nichole Herr
Nichole Herr joined Berardi Immigration Law in November 2019 as Chief Financial Officer. She oversees all aspects of the accounting and financial areas of the firm including payroll, compliance, ledger activity, expenses, and receivables. Prior to starting with Berardi Immigration Law, Nichole was Director of Finance at Rupp, Baase, Pfalzgraf, Cunningham LLC, where she managed all financial operations for the law firm. 
Nichole brings years of operations and financial experience to Berardi Immigration Law, and she has helped grow multiple companies throughout her career. Nichole cites working as Director of Finance and Operations for a consulting firm, ALTUS Management, as her most interesting job prior to joining Berardi Immigration; the consulting firm, owned by Buffalo area hospitals, originally started as a four person operation and developed into a much larger employee base with multiple business lines and locations during her nine years there.
When asked what she's enjoyed most about working at Berardi Immigration thus far, Nichole says, "The people and culture! Rosanna is such an inspiration and keeps us all involved in giving back to the community." In the four months she's been with the firm, Nichole has already made an enormous impact, including negotiating better rates with one of our vendors to improve the firm's bottom line.
If Nichole didn't work in finance, she says she would most likely have become a Spanish teacher; she studied Spanish in college and enjoys using her Spanish skills to help translate for others. Nichole and her husband have a blended family of four children: three sons, ages 14, 20, and 22, and a 16-year-old daughter. In her free time, you can find Nichole playing a variety of sports, practicing yoga, or traveling for her daughter's cheerleading competitions and her youngest son's soccer games. She loves to travel, especially to the Caribbean, and her dream vacation is to visit Bora Bora.
If you are interested in immigrating to the United States, be sure to contact Berardi Immigration Law to schedule a consultation with one of our attorneys today!