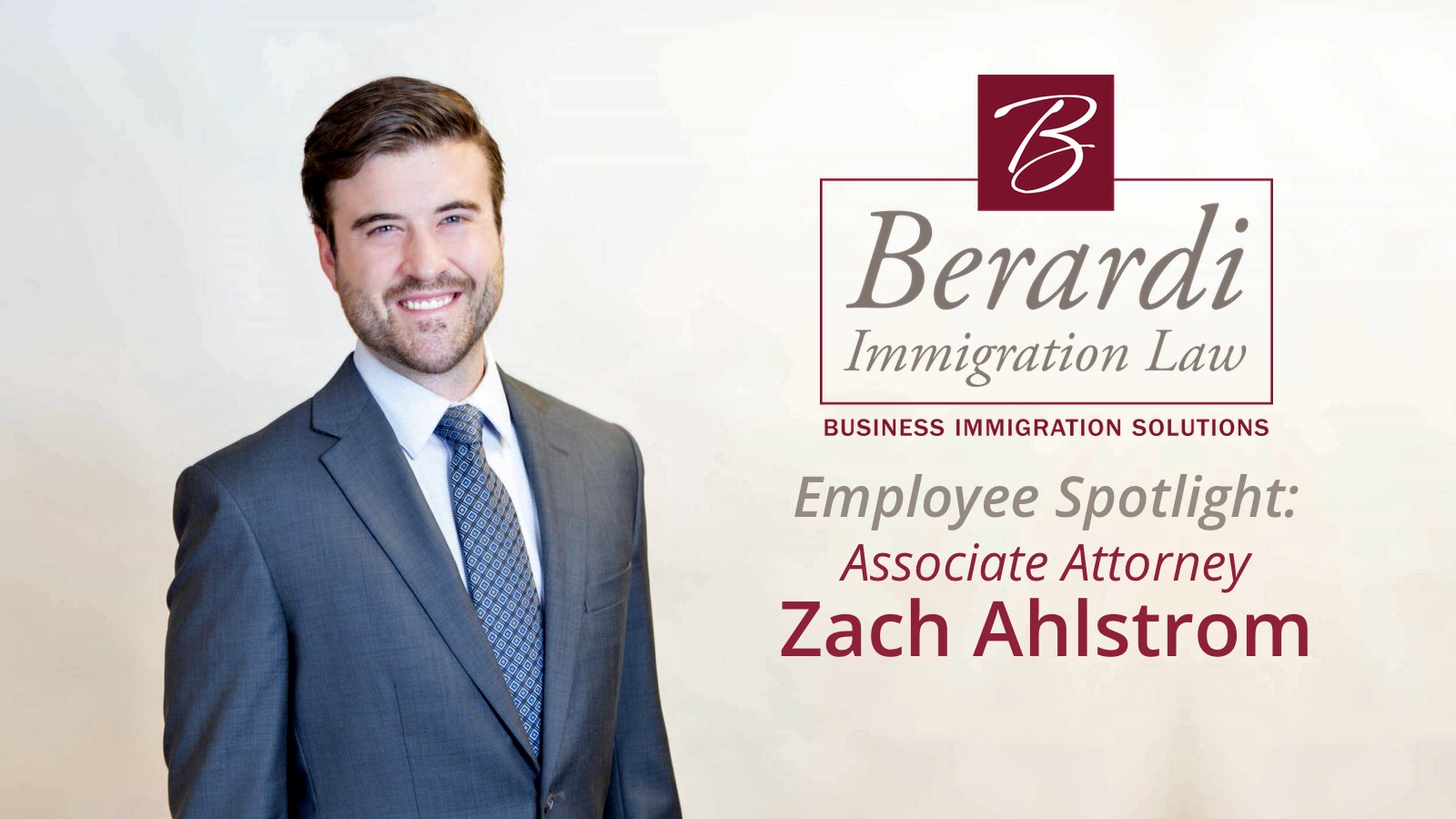 Employee Spotlight: Zach Ahlstrom
Zach Ahlstrom is an associate attorney at Berardi Immigration Law. Zach started with Berardi Immigration Law as a law clerk during his second year of law school in March 2017 and officially joined our team as an Associate Attorney in January 2019. Zach graduated summa cum laude from Mercyhurst University in 2014 with a degree in Political Science. He then went on to pursue a law degree from the University at Buffalo School of Law. While attending law school, Zach was a writing fellow for two years.
Zach advises clients on a wide range of petitions, including employment-based nonimmigrant and immigrant petitions, marriage-based green cards, and naturalization applications. Since joining the firm, Zach has developed a deep understanding of the complexities and nuances of U.S. immigration law and regulations.
When asked what he enjoys most about working in immigration, Zach says, "Our clients. I meet amazing new people every day, and I get to help these people create a life in the United States. It's an incredible experience for everyone involved." The most rewarding part of the job for Zach is the feeling when a case is approved, and you've helped someone establish their life in the U.S.
He also has some pointers for others who may be considering a career in immigration law, "It takes a lot of hard work to get here, but it's one of the most rewarding careers out there. Also, read the law. It's the most important thing for any lawyer to do."
In his spare time, you can find Zach teeing off at the golf course or planning his next trip to his favorite place, Acadia National Park in Maine. He is also a big fan of Mexican food and is known around the office for his frequent lunch choice of Chipotle or Salsarita's!
If you are interested in immigrating to the United States and have any questions, please contact our office to schedule a consultation with one of our knowledgeable attorneys today!