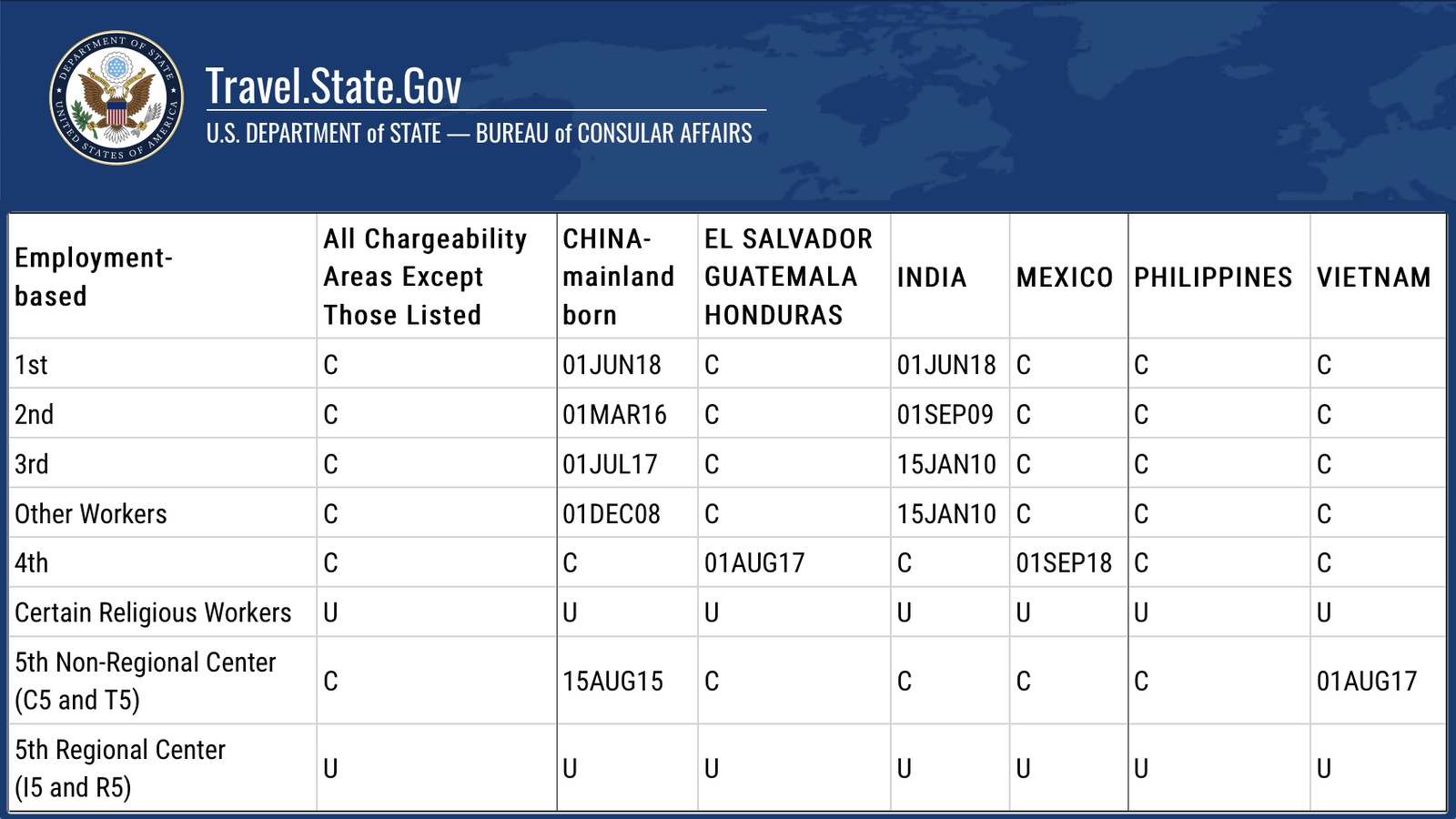 FAQ October 2020 Visa Bulletin
On September 24, 2020, the Department of State (DOS) released the highly-anticipated October 2020 Visa Bulletin. The Visa Bulletin, released monthly by the DOS, provides updated dates on when a foreign national can submit their Adjustment of Status (AOS) application or have their AOS case adjudicated. The submission of an AOS application is the final step of the green card process. 
What is the significance of the October 2020 Visa Bulletin?
The October 2020 Visa Bulletin shows major movement forward for employment-based immigrants under the Dates for Filing chart, and smaller but still notable forward movement in the Final Action Dates chart. (There is no movement at all in the family-based categories.)
This is particularly significant for green card applicants born in India and Mainland China, who face extremely long wait times due to the way green cards are allocated and the number of applications currently pending across different classifications.
Why was there such significant movement forward?
The October Visa Bulletin issued by the U.S. Department of State (DOS) marks the start of the new Fiscal Year (FY) for the U.S. Government. For example, the FY2021 runs from October 1, 2020, through September 30, 2021.
Typically, the October Visa Bulletin opens new immigrant visa numbers with the start of the government's fiscal year on October 1. The Immigration and Nationality Act stipulates certain carry-over rules based on the number of visas granted in the prior FY. One such rule requires unused family-based visa numbers from the prior FY to be added to the employment-based allocation (and vice versa). 
The number of family-based visas issued in the 2020 FY was greatly limited due to the COVID-19 pandemic and associated consular closures, as well as the travel bans reducing the usage of visa numbers. 
Can I file an Adjustment of Status?
For all employment-based preference categories, you must have an I-140 approval with a current priority date under the Dates for Filing chart in the Department of State Visa Bulletin for October 2020.  You must also be in the United States lawfully and continue to be supported by your sponsoring employer.
Below we reproduce details from the Dates for Filing Chart, October 2020 (noting that "All Chargeability Areas Except Those Listed" for all levels is "Current"):
Employment-Based (1st): China, Mainland-Born (01 Sep 20); India (01 Sep 20).
Employment-Based (2nd): China, Mainland-Born (01 Oct 16); India (15 May 11).
Employment-Based (3rd): China, Mainland-Born (01 Jun 18); India (01 Jan 15).
If your Priority Date in your EB category comes before the date listed on the chart, then you are eligible to file an Adjustment of Status (AOS) application beginning October 1. The spouse and minor children (under 21 and unmarried) of eligible EB candidates may also file for AOS. Applicants may apply for AOS-based work permits (EAD card) and travel permits (Advance Parole).
Is it expected that EB-2 and EB-3 will continue to advance?
Yes. In the October Bulletin, the State Department provides projections for immigrant visa availability through January 2021. The Department predicts the following potential monthly cut-off date movements:
EB-1: Remain current for all countries except India and China. Rapid forward movement for India and China.
EB-2: Remain current for all countries except India and China. Rapid forward movement for India and China.
EB-3 Professionals and Skilled Workers: Remain current for all countries except India and China. Rapid forward movement for India and China.
My priority date is not current for the EB-2 category, but it is for EB-3. Can I file AOS?
You may consider filing a "downgrade" of your I-140 from EB-2 to EB-3. The "downgrade" filing process involves the employer's submission of a new I-140 petition with USCIS using a copy of the prior PERM Labor Certification. 
Can I file the "downgrade" petition by premium processing?
USCIS does not allow premium processing where the I-140 petition is being filed without an "original" (blue paper) PERM Labor Certification. There may be a limited exception which might allow requesting premium processing for I-140s filed without an original PERM Labor Certification if the new I-140 is being filed with the same service center as the prior I-140; the petitions must first be filed via regular processing, with premium processing submitted as an upgrade after receipt notices are issued. However, it is unclear how USCIS will treat this request for downgraded petitions, and we are advising clients to assume that the petitions will be adjudicated under regular processing.
If proceeding with the EB-3 downgrade in October 2020, you would also likely want to file the Form I-485 Adjustment of Status petition concurrently to take advantage of having immigration benefits associated with a pending AOS.  Downgrading to EB-3 with a concurrently filed AOS opens the applicant and their family members (spouse and children under 21) to obtain independent work permits (EAD card) and international travel ability without needing visa stamping prior to reentry (Advance Parole). However, please note that Berardi Immigration Law conservatively encourages clients to always maintain underlying nonimmigrant status, when possible, even if an AOS is pending.
If I proceed with the EB-3 downgrade, is my EB-2 invalidated?
No, not necessarily. However, before proceeding, you should very carefully consider the following factors:
Filing a downgrade may open the door for USCIS to review the prior PERM and documentation supporting the initial I-140 filing; in worst-case scenario, if USCIS found an issue with the underlying approval, this could jeopardize the existing EB-2 I-140.
It is expected that if many EB-2 India applicants downgrade, the EB-3 India category will see much more demand. This will, in turn, will cause EB-3 India to slow down and possibly regress while EB-2 India may continue to advance. Remember, the downgraded I-140 will likely be adjudicated under regular processing, which could take upwards of 7-9 months, and possibly longer. The concurrently filed AOS will not be adjudicated until the I-140 is approved, and only if the priority date for EB-3 remains current.
If I downgrade to EB-3, and then EB-2 advances, can I switch back?
Possibly, but it may be costly to do so. USCIS does not easily facilitate the "toggling" of a pending AOS application between the EB-3 and EB-2 categories if the latter category once again advances. There is an administrative procedure called "interfiling" that may allow for USCIS to "link" the pending AOS back to an EB-2 I-140 approval, but this type of request is purely discretionary; since the procedure is not regulatory, it is not guaranteed.
If you have maintained underlying nonimmigrant status (likely H-1B), you may instead choose to file a new and second AOS application based on the original EB-2 approval; this may be a more efficient means for adjudication of an AOS under a current priority date rather than the interfiling method noted above. However, if you have relied on the EAD from the EB-3 downgrade to lawfully work in the U.S. rather than H-1B work authorization, you cannot file a second AOS. 
Is a new PERM approval required before I file an Adjustment, or with an I-140 Downgrade?
A new PERM and subsequent I-140 approval are only required if you are no longer working in a "same or similar" occupation, or if you no longer work in the same geographic location as those items reported on the underlying I-140.  Please discuss this further with your immigration attorney if you have any concerns.
Can my spouse and children file AOS cases with mine?
Yes, but you should very carefully strategize with your attorney and discuss filing implications for any dependent children subject to the Child Status Protection Act (CSPA), especially if choosing to downgrade. CSPA "freezes" the age of applicants under the age 21 who would otherwise age out before being approved for LPR status due to lengthy USCIS backlogs. USCIS has made clear that only Final Action Dates, and not Filing Dates, may be used to freeze a child's age. An applicant who files an I-485 based on a current Filing Date should be aware that their child will no longer be protected under CSPA if the child ages out before the Final Action Date becomes current. Further, children who were protected under CSPA under a prior I-140 may no longer receive that protection under a downgraded I-140 if the child is now over 21 years old.
Contact Berardi today – we'd love to help you with your immigration law needs.
Published: 1 October 2020
Please note: The content of this article is intended for informational purposes only and does not, in any fashion, create a professional relationship or constitute legal advice. This article and its contents are time sensitive and may not reflect ongoing developments in the law. Please seek the proper legal advice prior to taking any action regarding your own case.