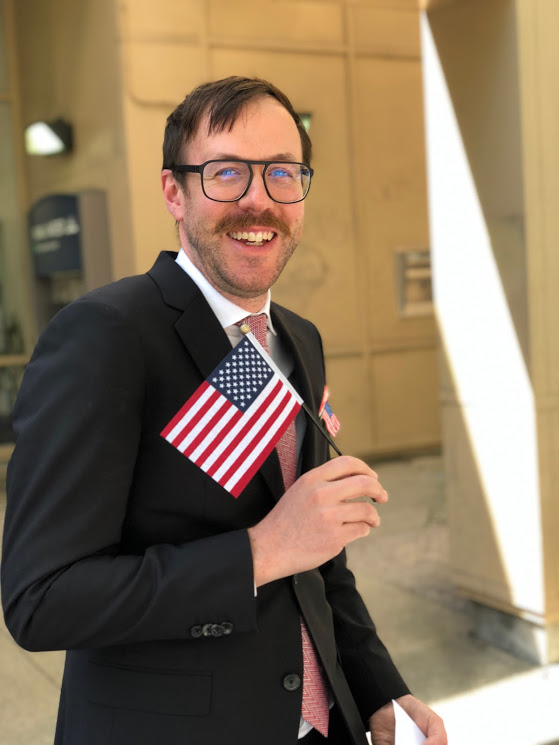 Featured Client of the Month: Shane Booth
Shane Booth is one of Berardi Immigration Law's longest standing clients and has been working with Rosanna Berardi since 2004! In 2004, more than 14 years ago, Shane reached out to Rosanna to help him obtain TN status as an Industrial Designer for a popular U.S. television network. Rosanna met Shane at the Peace Bridge Port of Entry to assist in presenting the application and Shane's TN was successfully approved for a full three-year period. Thrilled with our services, Shane reached back out to Berardi Immigration Law three years later to prepare his TN renewal application, which was also approved.   
Luckily, however, Shane wouldn't need to use his three-year TN visa, as he had married his wife, Kathryn, a U.S. citizen, just a few months prior! As Shane was already present in the U.S. under TN status, we were able to file an I-130 Green Card petition concurrently with Form I-485 Adjustment of Status, so that Shane was able to remain in the U.S. to be with Kathryn while his green card application was pending. In April of 2009, Shane was officially granted Lawful Permanent Status and received a conditional green card valid for two years. 

In January of 2011, our firm then filed Form I-751 Petition to Remove Conditions on a Green Card for Shane. Four months later, Shane was approved for his 10-year green card. Then in 2017, after eight years of happily living in the United States as a green card holder, Shane decided it was time to become a U.S. citizen. Our firm successfully filed the petition and on April 19, 2018, Shane attended his swearing in ceremony and is now officially a U.S. citizen!
Shane now works in the design industry and lives in California with his wife, Kathryn, and their two beautiful children. Shane is the perfect example of achieving the American Dream and Berardi Immigration Law is honored that we were able to help make that dream a reality!