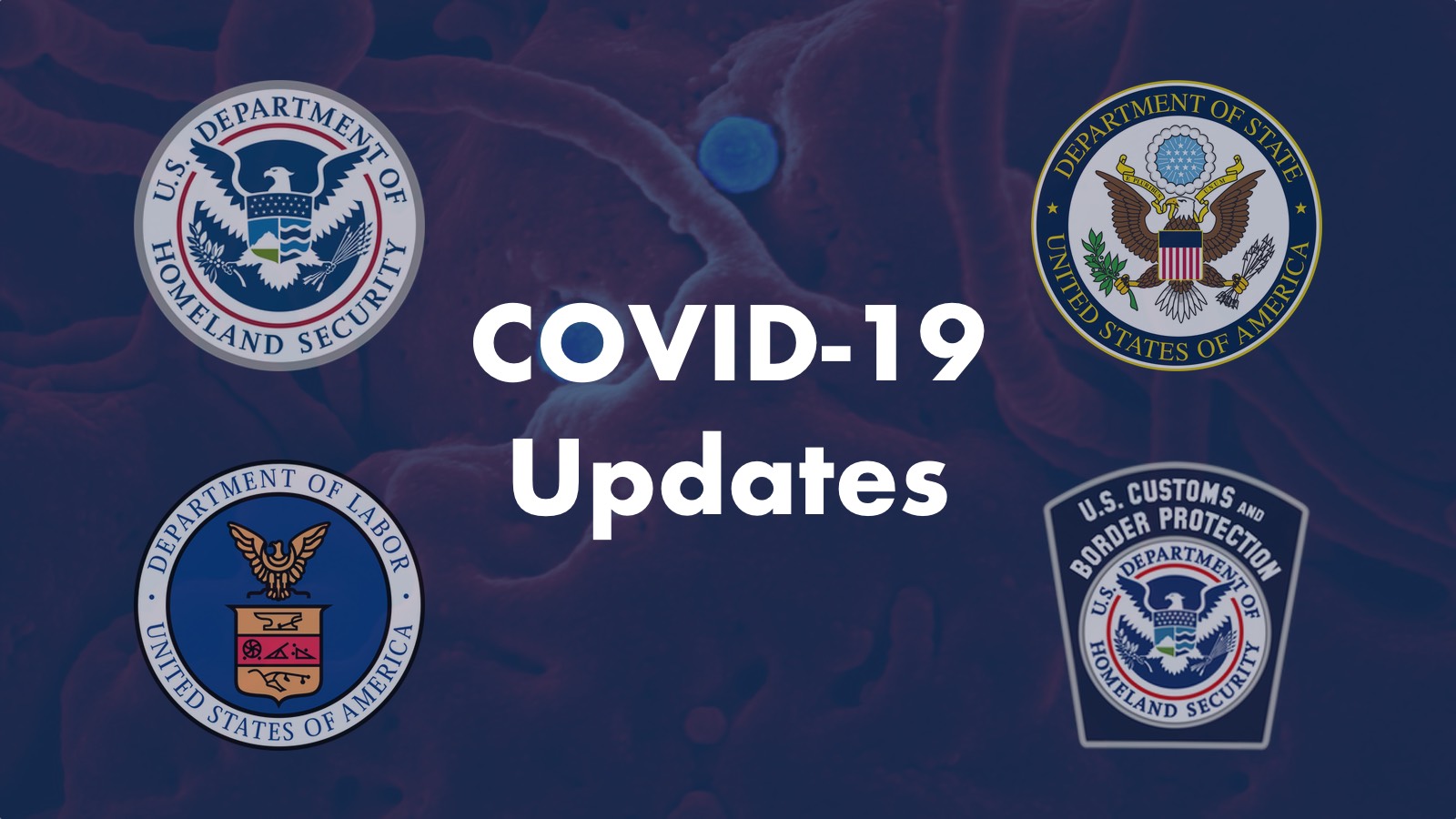 Immigration Updates from USCIS, CBP, DOS, and DOL due to COVID-19
COVID-19 is having a vast impact on immigration operations across all government agencies. To help navigate these challenges, Berardi Immigration Law is providing a summary with the most recent updates from US Citizenship and Immigration Services, Customs and Border Protection, the Department of State, and the Department of Labor.
Updates from USCIS 
Premium processing suspended for all I-129 and I-140 petitions – USCIS announced that due to COVID-19's impact on their operations and staffing levels, effective March 20, 2020, USCIS has indefinitely suspended premium processing for all I-129 and I-140 petitions. This includes fiscal year 2021 H-1B cap petitions. USCIS will notify the public when premium processing has been reinstated.
All in-person appointments cancelled – USCIS has cancelled all in-person appointments between March 18, 2020 and May 3, 2020 at USCIS Application Support Centers and field offices. This means that all adjustment of status interviews, naturalization interviews, naturalization oath ceremonies, and biometrics appointments have been cancelled. It is possible that USCIS will extend the temporary closure of these offices for a longer period. Once normal operations have resumed, USCIS will send out new appointment notices.
Relaxation of petition signature requirements – USCIS realized the difficulties surrounding original "wet ink" signatures in work-from-home environments, and beginning March 21, 2020, relaxed the original signature requirement for certain petitions. This means that USCIS will accept a copy or scanned version of an original "wet ink" signature.
USCIS to continue to process EAD extension applications without biometrics – USCIS announced on March 30, 2020, that it will continue to process form I-765 extension applications by using previously submitted biometrics.
Flexibility for Requests for Evidence and Notices of Intent to Deny – USCIS announced on March 27, 2020, that for applicants and petitioners who received or will receive an RFE or NOID dated between March 1 and May 1, 2020, will have an extra 60 days from the deadline listed in the notice.
Updates from CBP
Non-essential travel suspended from Canada and Mexico – Travel at the U.S./Canada and U.S./Mexico land borders will be restricted to "essential travel" until at least April 20, 2020. To learn more about what is considered "essential travel" visit our blog here. It is important to note that L-1 and TN applications can still be presented at the U.S./Canada border at this time.
Updates from DOS
Routine Consular services canceled – Beginning March 20, 2020, the U.S. Department of State announced that routine visa services at all U.S. embassies and consulates worldwide are suspended. This includes both nonimmigrant and immigrant visa matters. All upcoming interviews have been temporarily canceled until further notice. At this time, the Department of State is unable to provide a specific date and time for when routine visa services will once again be available.
National Visa Center working with reduced staff – The National Visa Center, the entity that processes documentation related to immigrant visa cases, has reported that it is presently working with reduced staff numbers. We anticipate this will cause delays in the processing of immigrant visas.
Updates from DOL 
PERM electronic approvals – Beginning March 25, 2020, and effective through June 30, 2020, the Atlanta National Processing Center (NPC) will issue certified Form ETA-9089 and Final Determination letters electronically to employers and attorneys in response to the COVID-19 pandemic. When filing the I-140 petition, USCIS will consider a printed version of Form ETA-9089, containing all signatures, as satisfying the requirement that petitioners provide evidence of an original labor certification issued by DOL.
PERM recruitment and notice of filing requirements – The DOL has announced that it will accept recruitment completed within 60 days after the regulatory deadlines have passed to give employers enough time, provided the employer-initiated recruitment on or after September 15, 2019. If recruitment has already been completed during the required 180-day period, however, employers should continue to file PERM applications under normal requirements.
Updates from ICE and USCIS 
I-9 compliance flexibility – On March 20, 2020, DHS announced interim guidelines to temporarily ease I-9 compliance for employers that are operating remotely. Under this guidance, employers that are operating remotely may complete Section 2 or Section 3 verification process remotely, which must usually be done in-person. To learn more about this, please visit our blog here.
E-Verify flexibility – DHS released new guidance to extend the timeframe for employers to resolve certain Tentative Non-Confirmations (TNCs). This guidance provides employees more time to resolve TNCs due to the closure of Social Security and other public offices. To learn more details on this, please visit our blog here.
Berardi Immigration Law will continue to provide our clients with the most up-to-date immigration information during the COVID-19 pandemic. If you have questions on how COVID-19 will impact your immigration options, be sure to contact us today!