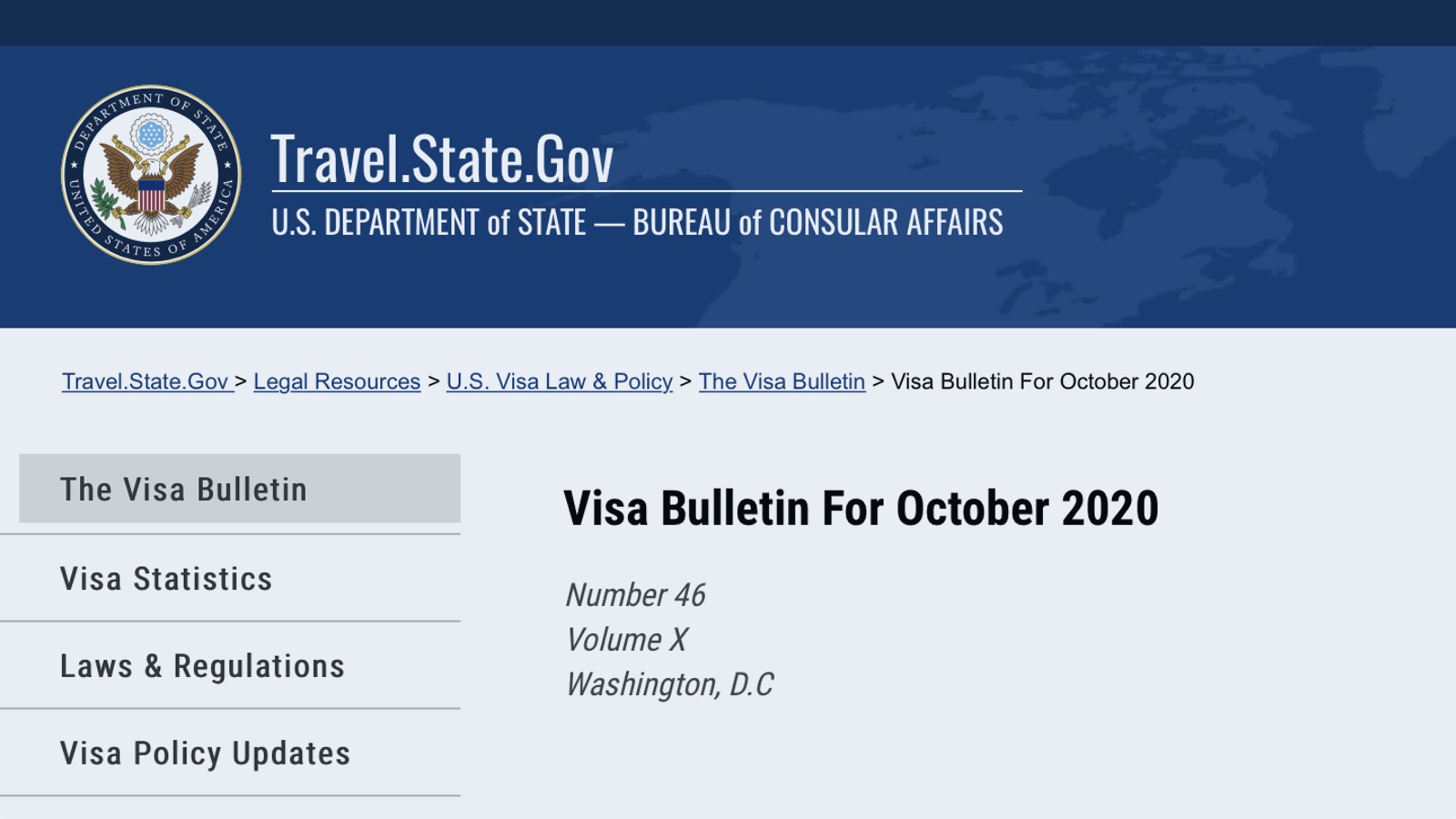 October 2020 Visa Bulletin Provides Significant Forward Movement for Employment-Based Adjustment of Status Applications
On September 24, 2020, the Department of State (DOS) released the October 2020 Visa Bulletin. The Visa Bulletin, released monthly by the DOS, provides updated dates on when a foreign national can submit his/her Adjustment of Status (AOS) application or have his/her AOS case adjudicated. The submission and adjudication of the AOS application are the final steps of the green card process. Certain classes of applicants (i.e. India and Mainland China born applicants for Employment-based Green Cards) face extremely long wait times due to the way green cards are allocated and the number of applications currently pending for the classes. 
Traditionally, the October Visa Bulletin opens new immigrant visa numbers. These visa numbers typically open in October because the Government's new fiscal year begins in October, and the Immigration and Nationality Act stipulates certain carry over rules based on the visas granted in the prior fiscal year. One such rule requires unused family-based visa numbers from the prior fiscal year to be added to the employment-based allocation (and vice versa). This rule greatly impacted the priority dates in the October 2020 Visa Bulletin, because the number of family-based visas issued in the 2020 fiscal year was greatly limited due to the COVID-19 pandemic and associated consular closures, while there was still a significant use of employment-based visa numbers. The total employment-based visa limit for fiscal year 2021, calculated by the DOS, is 261,500, a record high (with over 100,000 more visas available than the previous high of 158,000). 
The October 2020 Visa Bulletin shows several months of advancement in the final action dates for some categories as well as major forward movement in early filing dates across employment-based categories. Specifically, the bulletin affects the final action dates in employment-based categories as outlined below:
EB-1: All countries except China and India remain current. China and India will advance by three months to June 1, 2018.
EB-2: All countries except China and India remain current. China will advance by six weeks to March 1, 2016, and India will advance almost two months to September 1, 2009.
EB-3 for Professionals and Skilled Workers: All countries except China and India will become current. China will advance by four and a half months to July 1, 2017, and India will advance three and a half months to January 15, 2010.
EB-5: No forward advancement. All countries except China and Vietnam remain current. The Regional Center program is set to expire on September 30, 2020 and will become unavailable unless reauthorized.
USCIS announced after the issuance of the October 2020 Visa Bulletin that it will consider the early filing date for filing AOS applications, making many applicants current to file their employment based AOS applications. The bulletin further predicts "rapid forward movement" across all categories in the coming months.
If you have questions about how the October 2020 Visa Bulletin may impact the filing of your Adjustment of Status application, be sure to contact Berardi Immigration Law to speak with one of our knowledgeable attorneys today!