Press/Speaking
Berardi Immigration Law is a Buffalo-based firm focused on helping corporations and individuals transfer to the U.S.
The team at Berardi Immigration Law is frequently contacted by the media throughout the globe. They have been interviewed by Forbes, The Huffington Post Mexico, The Los Angeles Times, and The National Post (Toronto), to name a few.
Contact our team today for a radio, phone, or in-person interview. Our lawyers are at the forefront of national immigration trends.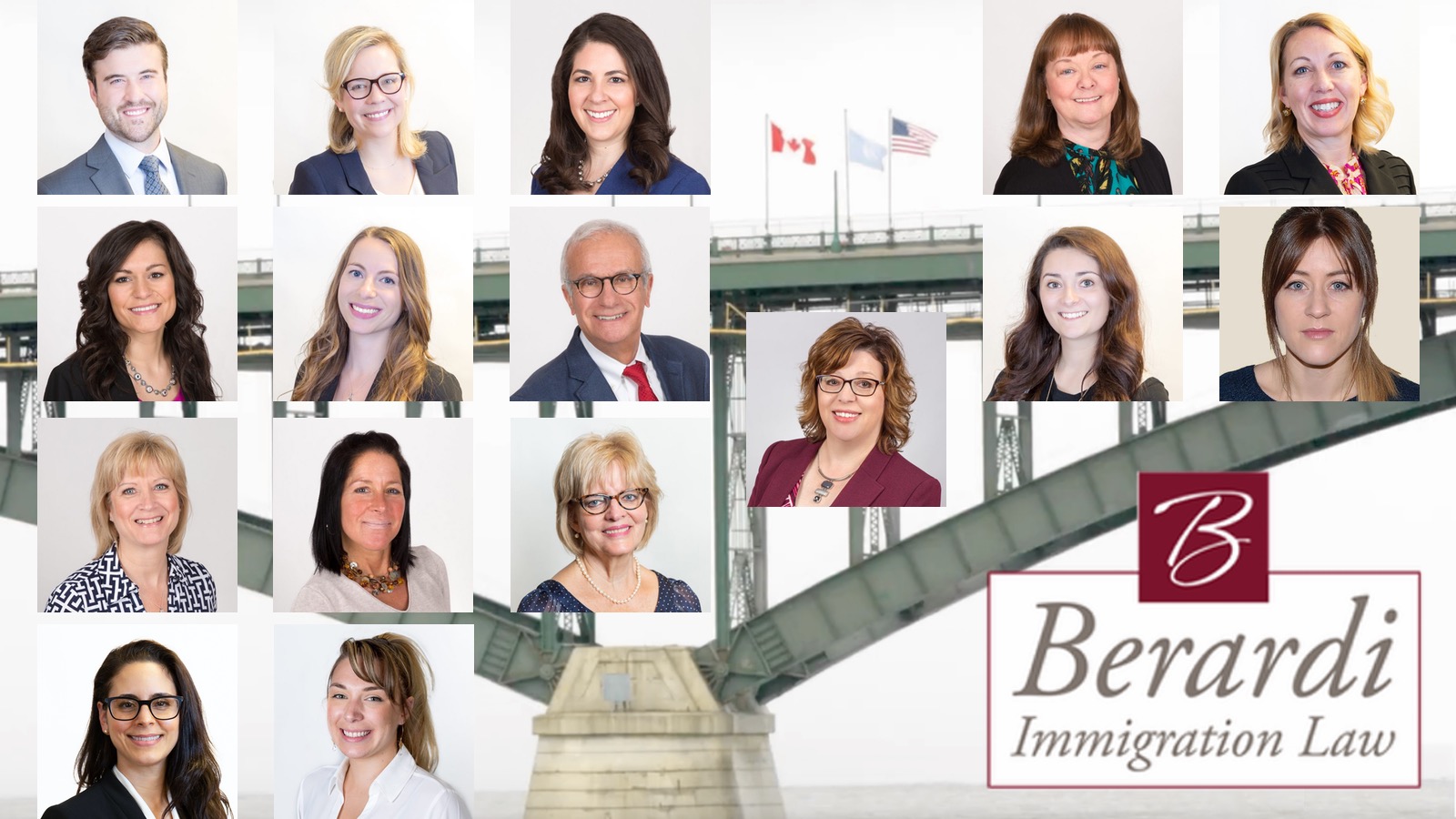 Buffalo Business First: Buffalo is home base for some Canadian natives
Buffalo has become home base for three attorneys who were born in Canada.Francesco Savoia is an associate at Pfalzgraf Cunningham LLC, Tiffany McKenzie is counsel at Berardi Immigration Law and Christine Jurusikis a partner at Richards Jurusik Immigration Law.
Buffalo Business First: New wrinkle in Canadian law makes impaired driving a high crime
A change in Canadian law that begins Tuesday will impact how individuals from the U.S. can cross the border if theyve been found guilty of driving while impaired.
AM 800: Snoop wants to be a Canadian citizen by January 2019
Rosanna Berardi, managing partner at Berardi Immigration Law joins Mike and Lisa to talk about the possibility of Snoop Dogg becoming Canadian.
Spectrum News: New Law Makes it Harder to Cross into Canada for Americans with DWIs
Canada is cracking down on impaired drivers with a new law that takes effect Tuesday and could prevent some American drivers from crossing the border.
WIVB: Entry into Canada to be tougher for drivers with DWI-related convictions
Starting Tuesday, December 18, new laws in Canada will drastically affect non-Canadians trying to travel into the country who have been convicted of DWI-related charges.
Imagine this: Youre returning to the United States after a business trip abroad. While going through customs, you are unexpectedly pulled to the side and brought into secondary inspection. The officer asks for your cell phone and the password to access its content. As you travel for work very often, you keep all of your sensitive client and corporate information on this cell phone. You freeze…
Bloomberg Law: Visa Provisions of New Trade Deal Largely Mirror NAFTA
Visas for professionals from Canada and Mexico will continue under the trade agreement the Trump administration reached with the two countries to replace the North American Free Trade Agreement.
TechConnex: Hot Topics at the U.S./Canadian Border
Do you cross the U.S./Canadian border in a business capacity? Do you send your employees to the U.S. for meetings, conferences, and trade shows? Our September session will focus on the recent changes at the border regarding work permits and business admissions.
Buffalo Business First: Column: Friend or foe? Canadas role in the new NAFTA
Outside looking in on Trumps new deal that nixed NAFTA, Canada is in a tough position.
Buffalo Law Journal: Travel ban ruled lawful by high court
In a 5-4 vote last week, the Supreme Court ruled in favor of President Donald Trumps travel ban, which allows Trump to stop people from certain countries from entering the United States.
Spectrum News Buffalo: Is the Travel Ban Illegal? Immigration Attorney Weighs in on Trump's Executive Order
It's been a busy weekend for immigration attorneys, who constantly fielded calls related to President Trump's executive order that calls for a temporary immigrant and refugee ban from seven countries.
Computerworld: Trump's ban becomes an H-1B fight
The U.S. technology industry warned President Donald Trump that his immigration order will hurt the U.S. economy by making it more difficult for businesses to attract overseas workers.
IT World Canada: Trumps move on H-1B visas wont hinder Canadian applicants
U.S. President Donald Trumps latest executive order to Buy American and Hire American likely wont hinder the Canadians heading south to take up high-skill tech jobs, but may see more immigrants seeking work in Canada.
Buffalo Business First: International law practices see changes amid Trump transition
Before January, many Buffalo-area international lawyers said their business consisted largely of issues like export/import law compliance, data transfer and anti-corruption matters.
Buffalo Business First: International law practices see changes amid Trump transition
The battle over the presidents travel ban has been raging between the states and the federal government since the original executive order was issued Jan. 27. It has been blocked, withdrawn, redrafted and blocked all over again.
Buffalo Law Journal: Year in Review President Trump and Immigration
On the campaign trail, President Trump promised to fix immigration. He promised to build a wall between the U.S. and Mexico, rip up NAFTA and reduce both legal and illegal immigration.
New York State Bar Association: Business Immigration Essentials
The best way to understand U.S. immigration law is to know that it is divided into two principal categories: immigrants and nonimmigrants. Immigrants are foreign nationals who are permitted to live and work in the United States on a permanent basis.
Buffalo Law Journal: Business Immigration Essentials
Since President Donald Trump signed Executive Order 13769, Protecting the Nation from Foreign Terrorist Entry into the United States, the now infamous travel ban has bounced around the judicial system and provided us with an inside look at what really happens when an executive order is challenged.
Bustle: What The SCOTUS Travel Ban Decision Means For Immigrants & Refugees
In a blow to immigrant rights advocates, on Tuesday morning the Supreme Court upheld the third iteration of President Trump's executive order to stop members of seven countries five of which are Muslim majority from entering the country.
WBEN: Rosanna Berardi, Berardi Law Firm
Berardi discusses the current state of immigration in the United States.
U.S. Department of Commerce's Select USA Conference: Speaking Event
Managing Partner Rosanna Berardi was honored to speak at the U.S. Department of Commerces Select USA conference in Washington, D.C. on June 20, 2018. Rosannas panel discussed Understanding Business Immigration Programs and U.S. Visas and was attended by more than 100 prospective investors from around the world.
Bustle: How Trump's Family Separation Executive Order Leaves Wiggle Room For It To Continue
President Trump has insisted for weeks that only Congress could act to stop the practice of removing immigrant children from their families at the U.S. border. But he issued an executive order to address the subject Thursday that doesn't actually require that his administration ends the practice.
WBEN: Rosanna Berardi, Berardi Law Firm
Berardi discusses President Trump's change of course on family separation.
Buffalo Business First: Sessions ruling could impact number of asylum seekers coming to the U.S.
A ruling by Attorney General Jeff Sessions last week will severely limit the ability of asylum-seekers fleeing their country of origin from gang violence or domestic abuse to seek asylum status in the United States.
WKBW Radio: Immigration lawyers explain southern border situation
How did the United States get to the point of separating children from their parents at the southern border? 7 Eyewitness News got some clarification from Western New York immigration experts. Rosanna Berardi has been practicing immigration law for decades. She says, the laws havent changed, but the implementation of the laws have.
Buffalo Business First: Canadas marijuana policy could be tricky at border
This summer, our friends north of the border plan to legalize recreational marijuana use. It will be lawful to purchase and smoke marijuana in Canada. This will raise a host of issues when crossing the U.S./Canadian border because the United States treats an admission of using marijuana the same as a conviction for purposes of admissibility.
Buffalo Business First: Buffalo-area immigration lawyers see if issues stemming from Washington
Changes made to immigration practices by the Trump administration have created plenty of new issues for clients, Western New York immigration lawyers said.
New Exporters to Border States (NEBS) Seminar: NEBS Featured Speaker
On Thursday, May 17, 2018, Managing Partner RosannaBerardiwas one of the featured speakers at the New Exporters to Border States (NEBS) Seminar. This seminar is hosted quarterly in Buffalo, New York by the Ontario, Canada government and offers a practical, hands-on introduction to the basics of exporting to the United States.
Invest Buffalo Niagara: Rosanna Berardi, on the Can-Am border
Rosanna Berardi is managing partner at Berardi Immigration Law and a cross-border expert. On this episode of Bell Ringer she shares some of that expertise, with some help from special guest Carolyn Powell of Invest Buffalo Niagara.
Buffalo Business First: Law firms join forces on immigration
In an effort to strengthen the immigration and cross-border team at Barclay Damon, the law firm named Buffalo attorneys Rosanna Berardi and Jennifer Behm special immigration counsel.They are managing partner and partner, respectively, of Berardi Immigration Law and will continue at that firm …
RT: Very damaging or inevitable? Lawyers assess US proposal to rummage through visitors social media
The proposal for visa applicants to surrender 5 years of their social-media history will have a "huge impact" on travel to the US and could be "very damaging" for those seeking to come to America, an immigration attorney told RT.While diplomats and travelers facing medical emergencies are expected to be exempt from the new extreme vetting procedure …
Bloomberg: Small Shift in Handling Some Canadian Visas Could Make Big Waves
A Homeland Security Department pilot program is shifting the decision-making process on certain temporary visas for Canadians away from the border.But what is starting out as a relatively small test run could have much broader implications for this and other visa programs if the pilot is expanded …
Bloomberg: Travel Abroad Could Spell Trouble for Green Card Seekers
There may be a new snag for immigrants in the employment-based green card backlog: an inability to travel outside the U.S. for three or more months at a time. Were basically forcing people to be grounded, Laura Danielson of Fredrikson & Byron in Minneapolis told Bloomberg BNA …
Buffalo Business First: Supreme Court won't hear DACA case, for now
The U.S. Supreme Court wont take up the Trump administrations appeal of a federal judges ruling that temporarily keeps the DACA program intact before the case makes its way through the lower courts. Under an injunction through two lower courts, the Department of Homeland Security must continue to accept renewal applicantions for the…
University at Buffalo CEL Ask the Experts Event: University at Buffalos Center for Entrepreneurial Leadership
On Thursday, May 10, 2018, RosannaBerardiwas one of the featured speakers at the University at Buffalos Center for Entrepreneurial Leadership Ask the Experts event. RosannaBerardigave a 20-minute presentation titled, Your iPhone and the Border: Your Privacy Rights at the Border."
Buffalo Law Journal: Trump and NAFTA: The end to a robust trade agreement
The North American Free Trade Agreement was a hot topic of the 2016 presidential election. NAFTA received an unprecedented amount of attention by both candidates. On the campaign trail, Donald Trump vowed to rip up NAFTA, although his team has since clarified that he is looking to rightsize it and make it fairer.
Buffalo Business First: Refugee resettlement agency on Trump's ban: "Our clients are very concerned"
Catholic Charities of Buffalo planned to welcome 19 refugees to Buffalo this week, but instead those refugees are temporarily banned from entering the United States for the next four months. An executive order signed Jan. 27 by President Trump suspends the U.S. Refugee Admissions Program for 120 days and halts…
Forbes: A Lawyer Aids Immigrants' American Dreams Through Her Firm
When a mother and stepfather were kept an ocean apart from their teenage son for almost a year by U.S. immigration officials, Rosanna Berardi of Berardi Immigration Law came to the rescue. Marleen Pfeiffer, a Dane, had married a U.S. citizen in June of 2014, and become a permanent resident about a year later Her son, Mads, joined her in…
Huffington Post Mexico: Nearly 13,000 Mexicans facing the threat of losing their jobs if the US withdraws from NAFTA
Mexicans living and working in the United States are not all illegal or criminal, as President Donald Trump has said, on the other hand, there are almost 13,000 professionals trained, with good jobs and who pay the same taxes as a US citizen : they are Workers with a TN visa product of the North American Free Trade…
LA Times: Trump travel ban is 'scary' for Hollywood, which relies on a global talent pool
Los Angeles producer Rossi Cannon relies heavily on foreign directors and cinematographers to make commercials for brands such as Nike. Cannon, 48, never thought that her access to the global talent pool might be limited. Now shes not so sure. The election of President Trump, she says, has…
The Lawyers Weekly: There are no digital secrets at the border
Each day, hundreds of foreign nationals travel to the United States for business meetings. Most business travelers carry a laptop and smartphone that contains confidential business information. This information may include e-mails from lawyers, proprietary data and trade secrets. Imagine this: upon presenting your passport to Customs and Border Protection, you are…
National Post: Northern aliens: Around 100,000 Canadians live under the radar in U.S. as illegal immigrants
It was the late 1990s when the Canadian man crossed the border into the United States, a visitor like millions of others, free to stay up to six months. Except that he never actually left the U.S., and never obtained U.S. government permission to stick around. He simply made a new life for himself in America. For the last 18 years, the Canadian…
The Miami Herald: Kuwaiti neurosurgeon invited to University of Miami denied entry into U.S.
A distinguished Kuwaiti neurosurgeon with ties to the South Florida medical community says he and his wife were singled out by a U.S. federal agent at an airport in Dubai last week and told, without explanation, that they could not enter the United States for vacation.