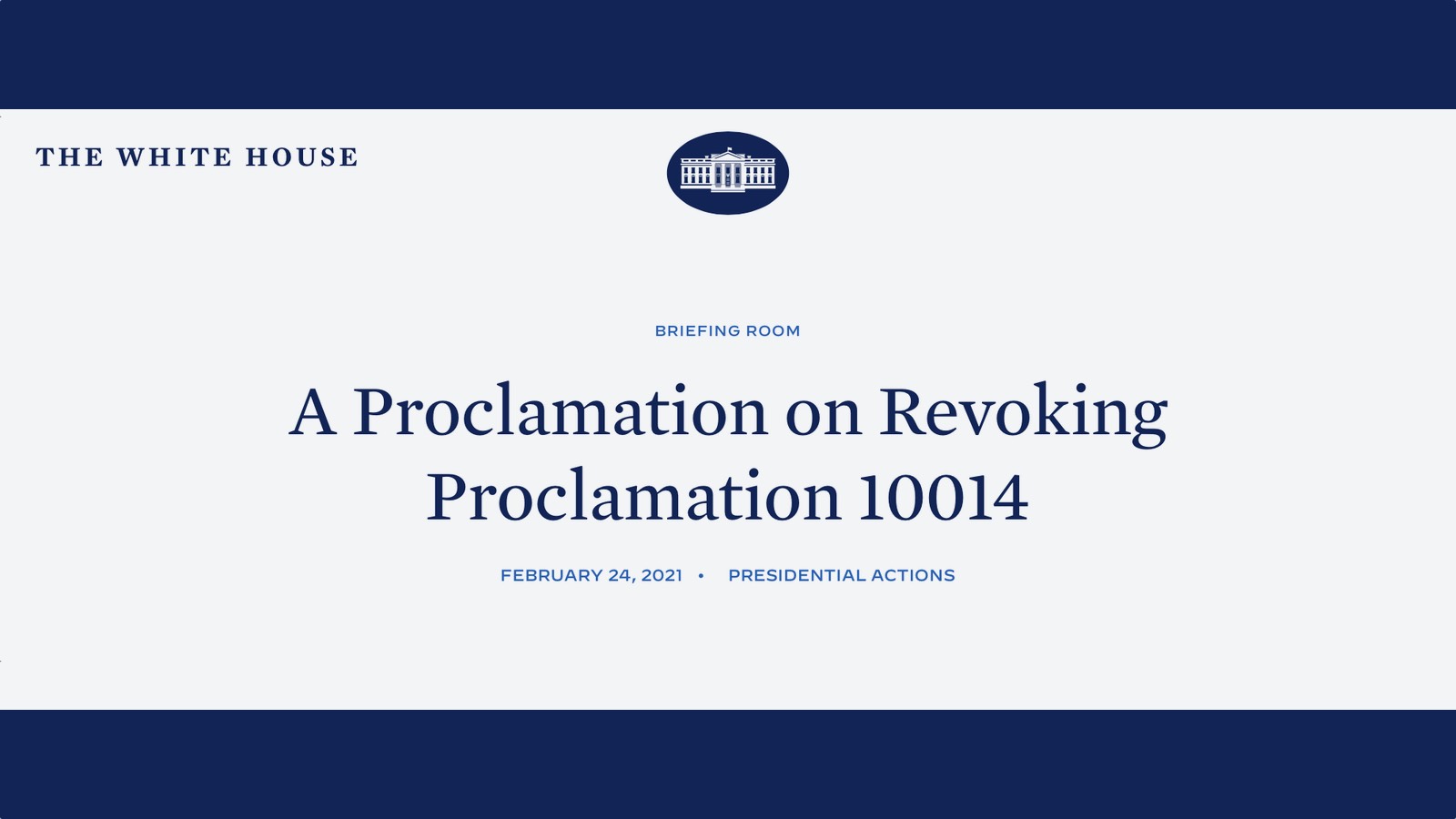 President Biden Revokes Proclamation 10014, Lifting Trump's Ban on Green Cards
On February 25, 2021, President Biden revoked Proclamation 10014, thereby lifting the ban on green cards imposed by Former President Trump last spring. In Proclamation 10014, issued April 22, 2020, Trump suspended the entry of foreign nationals as immigrants, claiming they posed a "risk to the United States labor market during the economic recovery" following the COVID-19 outbreak. As a result, most immigrant visas were blocked, including family-based preference visas, employment-based visas, and thousands of diversity immigrant visas.
In lifting Trump's freeze on immigration, Biden stated in his proclamation that the suspension of entry of immigrants in Proclamation 10014 "does not advance the interests of the United States." To the contrary, Biden stated that the ban on green cards "harms the United States" because it prevents U.S. citizens and lawful permanent residents from reuniting with certain family members, it deprives U.S. industries of talent from around the world, and it "harms individuals who were selected to receive the opportunity to apply for, and those who have likewise received, immigrant visas through the Fiscal Year 2020 Diversity Visa Lottery."
Now that the ban has been lifted, thousands of visa lottery winners who were at risk of having their visas expire during Trump's ban can breathe a sigh of relief and make plans to enter the U.S. No redress has yet been proposed for those immigrants previously denied entry under Trump's orders, and it is unclear whether any will be. Biden has, however, called for an increase in the number of diversity visas available through the lottery system in his new immigration bill—the U.S. Citizenship Act of 2021. If passed, the Act will increase the number of diversity visas dolled out each year from 55,000 to 80,000.
Biden's new immigration bill also addresses the backlog in the family immigration system and aims to speed up the process by which family members of U.S. residents can join their relatives. This backlog is a real concern for many foreign nationals looking to utilize the family-based green card process now that Trump's ban has been lifted. The blocked visas under Trump's temporary freeze on immigration now add to the growing backlog of family-based visas, increasing already lengthy wait times. This backlog is anticipated to take years to overcome unless immediate legislative action is taken.
Although not every foreign national can expect expeditious entry into the U.S. in the aftermath of Trump's ban, the revocation of Proclamation 10014 is a big win for foreign nationals looking to immigrate to the U.S. In light of the various COVID-19 safety precautions, including mandatory testing and quarantining, and the gradual roll out of the vaccine, it appears that Biden is eager to welcome foreign talent and loved ones back into the U.S.
Berardi Immigration Law is committed to providing our clients with the most up to date immigration news. Be sure to subscribe to our blog and follow our social media accounts for more important updates!