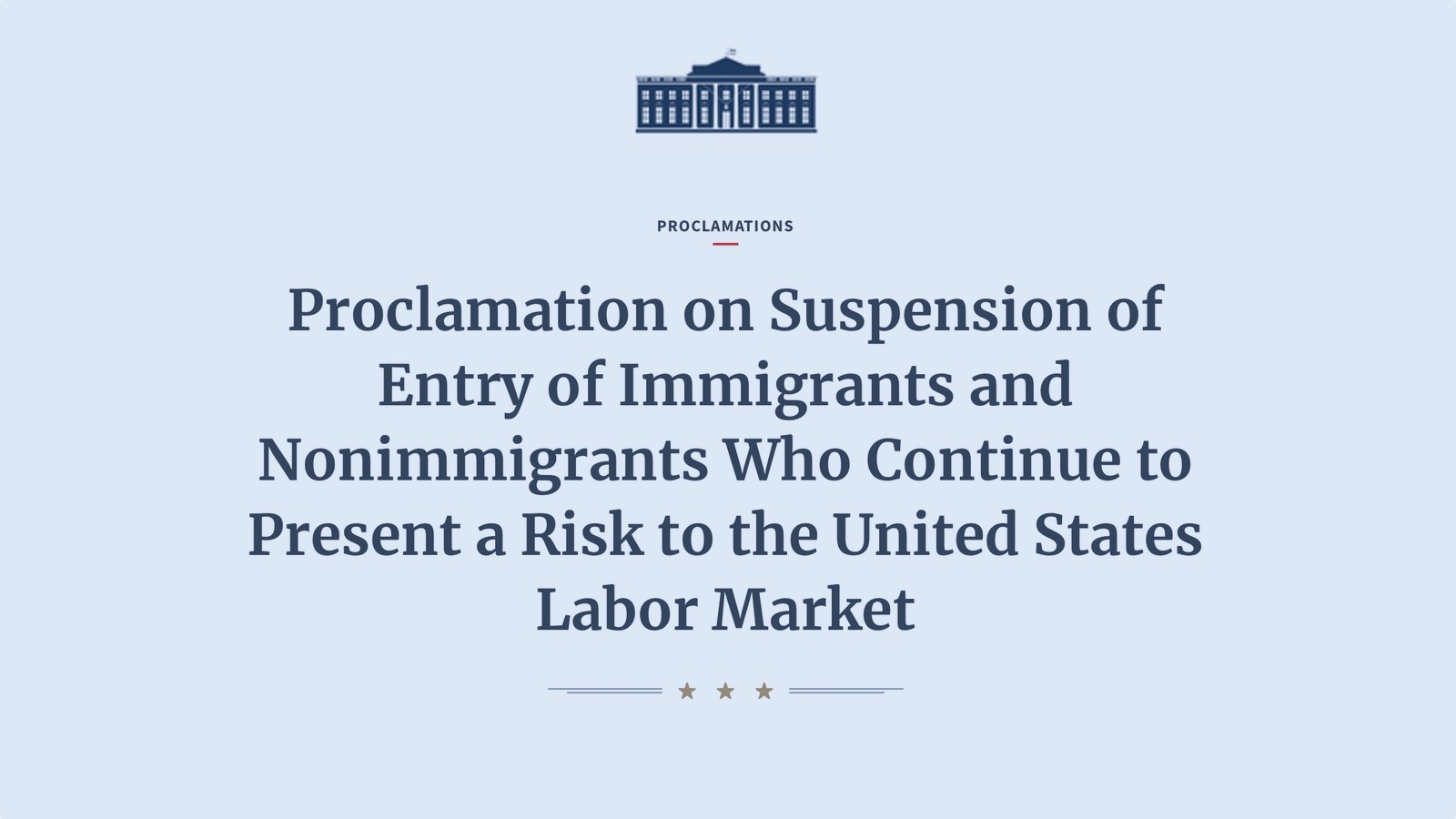 President Trump Extends Immigrant & Nonimmigrant Visa Bans to March 31
On December 31, 2020, the Trump Administration issued a presidential proclamation, Proclamation on Suspension of Entry of Immigrants and Nonimmigrants Who Continue to Present a Risk to the United States Labor Market, extending the ban of entry for certain nonimmigrant and immigrant visas as provided for in the April 22, 2020 and June 22, 2020 proclamations.
President Trump's April 22, 2020 proclamation was issued in response to the outbreak of COVID-19 and temporarily suspended the entry of most immigrants who did not already have an approved immigrant visa. The proclamation was meant to "protect already disadvantaged and unemployed Americans from the threat of competition for scarce jobs from new lawful permanent residents" and to alleviate the "strain on the finite limits of our healthcare system" during the pandemic.
On June 22, 2020, President Trump issued a second proclamation extending the April 22, 2020 immigrant visa ban and imposing an additional nonimmigrant visa ban. The June 22, 2020 nonimmigrant visa ban suspended "entry into the United States of any alien seeking entry pursuant to any of the following nonimmigrant visas[:]"
(a) an H-1B or H-2B visa, and any alien accompanying or following to join such alien;
(b) a J visa, to the extent the alien is participating in an intern, trainee, teacher, camp counselor, au pair, or summer work travel program, and any alien accompanying or following to join such alien; and
(c) an L visa, and any alien accompanying or following to join such alien.
Spouses and children of U.S. citizens, current lawful permanent residents and visa holders, individuals whose entry is considered to be in the national interest, and a limited number of others foreign nationals are exempt from these travel restrictions.
Both the immigrant and nonimmigrant visa bans were set to expire on December 31, 2020 but have now been extended to March 31, 2021. In extending the prior two proclamations, President Trump claimed to be exercising his powers under sections 212(f) and 215(a) of the Immigration and Nationality Act (INA), which have historically given the President broad authority to implement restrictions by proclamation and suspend entry of foreign nationals if such entry would be detrimental to U.S. interests. President Trump noted that the initial concerns underlying the prior two proclamations—namely, the consequences of the COVID-19 pandemic on the health of the American people and the U.S. labor market—were still prevalent today, thereby justifying the extension.
Critics of these restrictions believe that President Trump has used the COVID-19 pandemic as an excuse to push his own personal ideologies through proclamations. Specifically, some believe that President Trump has ignored statistics and economic data that show immigration does not increase the unemployment rate—which is one of the main justifications for the bans. Whether or not the immigrant and nonimmigrant visa bans will be extended again in March is unclear.
In the meantime, be sure to subscribe to our blog and follow our social media accounts for more important updates!