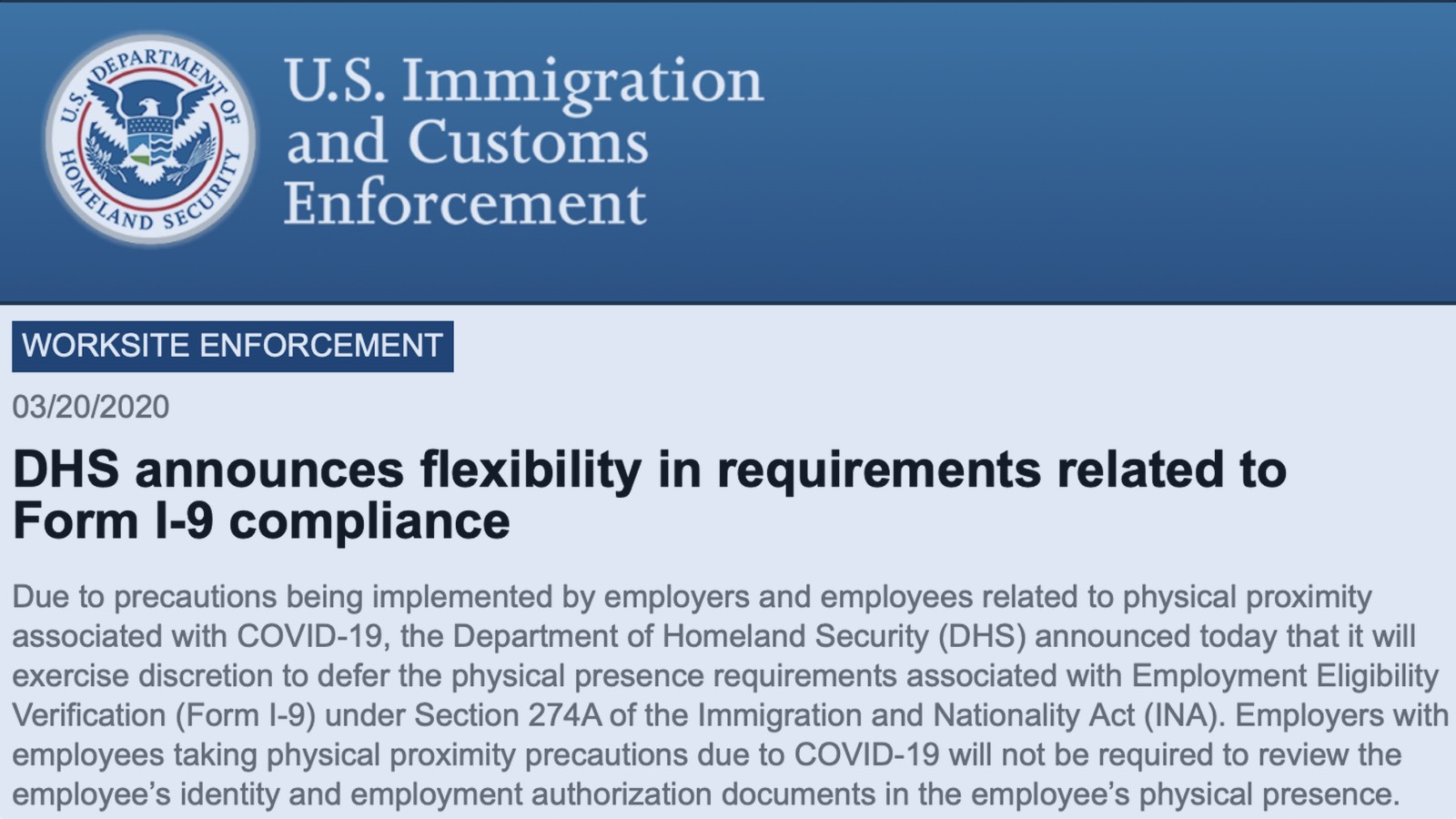 Relaxation of Employer I-9 Compliance will end November 19, 2020
Form I-9 is used to verify the identity and employment authorization of individuals hired for employment in the United States. All U.S. employers are required to complete Form I-9 for any individual they hire in the United States—including citizens and noncitizens. Due to the outbreak of COVID-19, the Department of Homeland Security (DHS) announced on March 20, 2020 that it will allow for flexibility with regard to the completion of the Employment Eligibility Verification (Form I-9) for employees working remotely. U.S. Immigration and Customs Enforcement (ICE) has allowed companies working remotely to inspect documents virtually—namely, through video, fax, or email. This flexibility was intended to stay in place until the company returned to "normal operations," and was extended on September 19th by DHS for 60 days.
This period of flexibility is currently scheduled to end on November 19, 2020. Once normal operations resume, documents that have been examined remotely must be examined in person within three business days. Once physical inspection takes place, employers are directed to enter "COVID-19" as the reason for the physical inspection delay and "documents physically examined" with the date of inspection to the Section 2 additional information field on the Form I-9 (or to section 3 as appropriate).
ICE has also provided guidance for employers if the Employment Authorization (EA) documents used during the remote hire were lost or have expired:
If the employee is presenting the same EA documents and they were valid at the time of hire, no additional documentation other than the updating of the "additional comments" field is required.
If the documents are lost or unavailable, have the employee fill out a new Form I-9 and present any combination of a valid List A or List B and C documents. Complete the Form I-9 as usual and use the same hire date as the remote hire, attach this Form I-9 to the remote hire Form I-9 with a note indicating that the original documents were unavailable.
Employers should note that this temporary guidance only applies to employers and workplaces that are operating remotely. There is no exception for in-person verification of identity for employees who are physically present at a work location.
Employers should refer to the original news release for more information on how to obtain, remotely inspect, and retain copies of the identity and employment eligibility documents to complete Section 2 of Form I-9. Employers should also monitor the DHS and ICE websites for updates regarding a possible extension.
The attorneys at Berardi Immigration Law are very familiar with I-9 rules and regulations. If you have questions on this, be sure to contact our firm to schedule a consultation with one of our attorneys today!