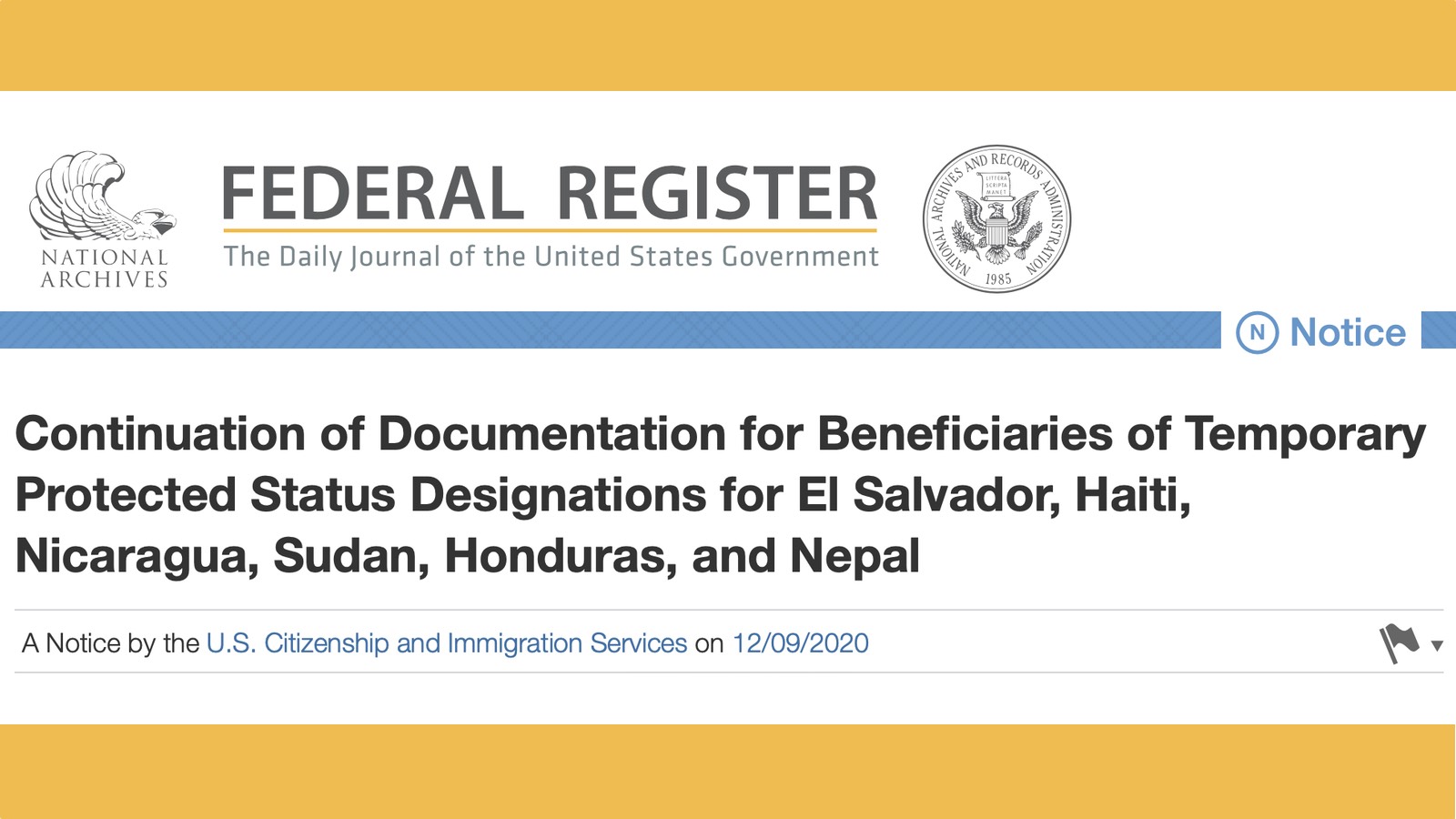 USCIS Announces Extension of Temporary Protected Status for Six Countries
On December 7, 2020, the Department of Homeland Security (DHS) issued a Federal Register notice extending Temporary Protected Status (TPS) and the validity of TPS-related documentation for beneficiaries under the designations for El Salvador, Haiti, Honduras, Nepal, Nicaragua, and Sudan. TPS-related documentation includes Employment Authorization Documents (EADs); Forms I-797, Notice of Action; and Forms I-94, Arrival/Departure Record.
TPS is a temporary immigration status granted to eligible nationals of a country designated for TPS under the Immigration and Nationality Act (INA) or to individuals without nationality who last habitually resided in the designated country. The Secretary of Homeland Security may designate a foreign country for TPS due to conditions in the country that temporarily prevent the country's nationals from returning safely, or if the country is unable to adequately handle their return.
The Secretary may designate a country for TPS if any of the following conditions exist:
Ongoing armed conflict (such as civil war);
An environmental disaster (such as earthquake or hurricane);
An epidemic; or
Other extraordinary and temporary conditions.
If approved, TPS beneficiaries are not removable from the U.S., they can obtain employment authorization, and they may be granted travel authorization. A TPS beneficiary also cannot be detained by DHS on the basis of their immigration status in the U.S.
The purpose of DHS's notice is to ensure "DHS's continued compliance with various court orders issued by the federal district courts in the Ramos, Bhattarai, and Saget lawsuits that require DHS to maintain the TPS designations for El Salvador, Haiti, Sudan, Nicaragua, Honduras, and Nepal[.]" The continued designation of these six countries under TPS, as well as their beneficiaries, depends on the outcome of the foregoing court cases.
The outcome in Ramos, specifically, will have a large impact on whether TPS may be designated, extended, or terminated for various countries in the future. In Ramos, the U.S. Court of Appeals for the Ninth Circuit held that the decision to designate, extend, or terminate TPS is not subject to judicial review. The appellate order, however, is not yet in effect because the Ninth Circuit has not issued any directive to carry out the order to the lower court. Once in effect, countries such as El Salvador, Nicaragua, and Sudan are likely to lose their TPS designations.
In the meantime, the validity of TPS-related documentation for the beneficiaries of El Salvador, Haiti, Honduras, Nepal, Nicaragua, and Sudan will be automatically extended through October 4, 2021.
Berardi Immigration Law is committed to providing our clients with the most up to date immigration news. Be sure to subscribe to our blog and follow our social media accounts for more important updates!