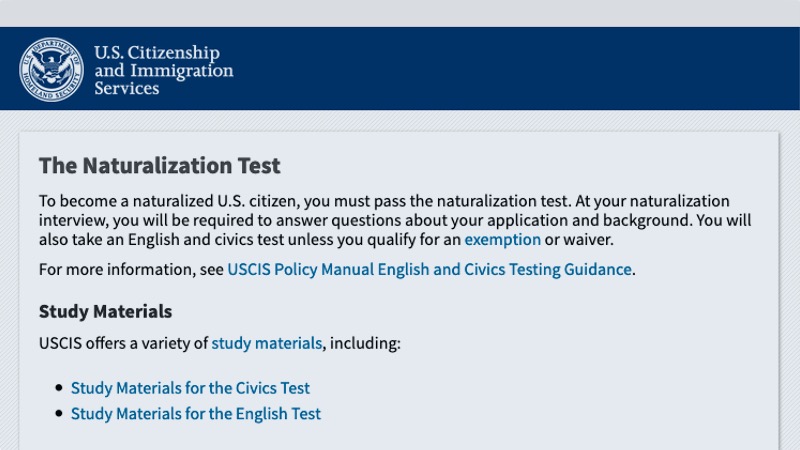 USCIS Announces Plans to Improve the Naturalization Test
USCIS has announced that it will begin implementing an updated naturalization test beginning December 2020 or early 2021. In order to naturalize, candidates must demonstrate their knowledge and understanding of U.S. civics and the English language by passing a naturalization test.
In December 2018, USCIS formed a naturalization test revision working group with members from across the agency. The working group has been reviewing and updating the naturalization test questions, as well as assessing potential changes to the speaking portion of the test. USCIS is receiving the input of experts in the field to ensure that this process is fair and transparent.
USCIS has the power, granted by Congress, to develop, administer and occasionally revise the naturalization civics test to ensure accuracy and timeliness of content. It has been 10 years since revisions were last made to the naturalization test. On May 3, 2019, USCIS signed the Revision of the Naturalization Civics Test Memorandum.
As explained in the memorandum, "the purpose of these revisions is to create a meaningful, comprehensive, uniform, and efficient test that will assess applicants' knowledge and understanding of U.S. history, government, principles, and values."
Presently, the civics portion of the naturalization test consists of 10 questions out of 100 in three categories: U.S. government, U.S. history, and integrated civics, which includes geography, symbols and holidays. The applicant must correctly answer 6 out of the 10 questions to pass the civics portion of the naturalization test.
Last year, 757,000 people naturalized to become U.S. citizens. This is a five-year high! If you are interested in becoming a U.S. citizen or have any questions about the naturalization process, please contact Berardi Immigration Law to schedule a consultation.